Day 69 extended flower.
Recipe is for 74 days and it wouldn't stop growing.
I've tied it to the point where I don't know where the branches are.
I've also pushed coco pod through hole.
Is it still too close to the light?
Seems close. That's an auto flowering plant?
You good @DanTom
Mine is physically touching the lights and two of them have burnt tops because of such. You should be good but if not you can always pinch and end the branches down to the sides etc.
You'll feel the branch bend but the stem should be hardy based on those photos so you'll be good
((#TooTall)):
--
Summary
Day 74
Removed lower bud sites
Time to fatten up…
By the recipe it was supposed to be harvest day but I wont complain about the stretch and bud sites from all the horizontal branches thanks to the magnets

Now that's innovative!
Day 80
Filling out.
Fighting a little PM on lower.
A little to dense will look to adding a fan. Removed some lower fans that I could find but hands cant get to back or inspect due to height and supports.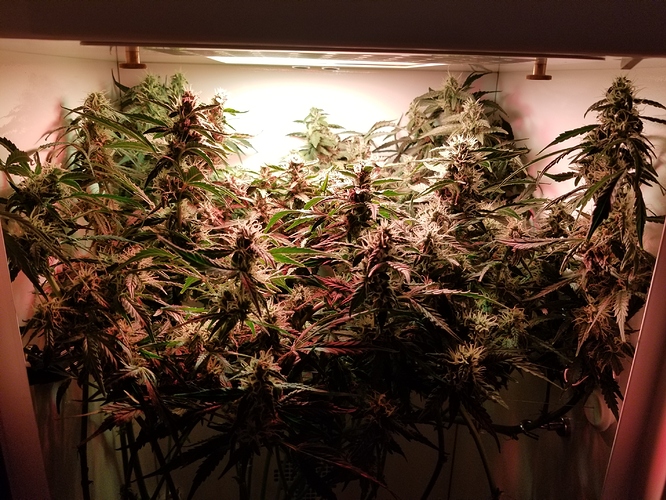 #GROBOBEEFCAKE


Looks amazing
Most impressive Ive seen yet! New to Grobo. That gives me encouragement. Just started OG Kush auto after a failed 30 day grow of Big Bud do to dampening off. My pod always seems to wet. Nice work.
Have you checked your sensors?
They may need to be recalibrated to make sure your readings for water levels are right.
Otherwise check these things:
Post a picture so we can see where your cocoa pod is positioned.
Its also important to keep your unit wiped down and dry.
Dry your hose and magnet after each drain and fill.
Ya. Had @Stephen check and said all was good and that each unit sets the water levels a little different. Anyhow Ive cut the bottom of the pod off so not as much is exposed to the bubbling water. I also took a little water out of the reservoir. Got a notice last night that my seedling was thirsty and to top off the water. That's the last thing it needs it's already soaked. Any other thoughts?
The top off is automatic message after 4 days and not relevant to specific grows
Thanks
Day 93
Day 3 flush.
Flawless finish added.
Was going to extend but must move on quickly.
Had to remove alot of lower buds
It's too dense and found powdery mildew in back areas…
Going to selectively harvest and thin in a few days. Trying to allow that bud in back to finish. The mildew snuck in lower buds and spread fast. Vibrations on leaves made it hard to see even with flashlight.