Xfinity flaked… WiFi tomorrow
Back and at it with WifFi! It was a long week…

Her leaf tips appear burnt for whatever reason, I'm not sure. I filled her with ~1.5 gal H2O and waited for nutrients to dispense and added 2mL of Orca to the res.
As it's the last day of transition and she appears to be budding now, I took the majority of her lower branches off to take clones. This should help focus the development of flowers (at least that was my intention!)
Anyone need an extra clone? I'm going to have plenty
@SilverGrobo your Grobos both look amazing, just saw them in your post! Can't wait to see how they turn out, and would love more pictures

How does your LED work? And why use that over the pre-installed one? Just curious
I'm hoping I won't have to supercrop this lanky lady in my Grobo, now that you mention it. I was certainly expecting her to be a bit shorter but this will do. I'm sure all my cables will help me tie her down one way or another
It's always a learning process. I wish I could grow dozens at a time
one day!!
She is Up
There
Water change today
Added Silica 2 mL
Post Nutrient Dosage added 2.5mL Orca

She needed to be tied down!

The tallest branches were propped over, and were rather malleable. They did not require bending of the branches. The two branches are being held down with some drying wires that were pulled from lower in the canopy. The canopy is lying at the same height as the small white box on the back wall inside the unit. Keeping everything even at the canopy is optimal so I assumed that doing this early in flower would be beneficial. She appears t have finished her (long) stretch!
If I grow this cultivar inside the unit again I will beware of her stretch! At least now I know for the clones, which I plan on flipping earlier than in the Grobo. I'd recommend this strain as she grows fast and very easily. But flip before the first fan!
I now see that implementing the wires earlier in veg would've allowed me better control over the branches.
We live and learn! I'm glad she's budding up nicely, and beginning to reek of tropical fruit!
Drain/Fill today
Water out: 2gal
Ph 6.2
Ppm 1010
Water in: 2.5gal
(hose water, 2 boogie blue plus filters, one at the front of the hose, one at the end)
Ph 8.1
Ppm 40
Orca, 2mL post Grobo nutrient dosage
Thicker and more pungent every day!
I suppose I will need help with defoliation when the time comes. She's so frosty I don't want to pluck any frosty ones, but I'll be taking a few off the top on or around day 21, she's getting crowded and some of the leaves sweat. I keep the humidity 45-50% inside the unit.ambient temp around canopy 75-88°F
Yesterday I topped off and she drank 1/2gallon, I decided to add 1mL of Big Bud to the 1gal jug I used to fill the reservoir.
I also defoliated! I took notes from many different threads on here, but I decided to defoliate before day 21 as she looks soooo healthy and frosty and I'd like to help push her toward bud development as best as I can while maintaining proper health.
Here's a pic from yesterday:
I don't see any crazy stacking yet, but the amount of frost already in flower and the reek of these terpenes is incredible! Sweet mango and funky goodness. Certainly desirable. I can imagine the smells coming out of the jars already…
I can't believe it's been 95 days.
I want to motorboat
them
Here we are. 100 days of Gold Leaf in my Terpinator 3000! She was set for 38 days flower but I added a week just in case I need it.
This thing is amazing. Just gorgeous. I'm so proud
Every day I am surprised by the frost and bud development. The added tint of purple is a nice touch. She's flopping over and can barely hold her tops up.
Heat wave near me got the outdoor temp at 86°F. Trying my best to curb it but who knows. Maybe we'll see some fox tailing in a few days
all eyes on her.

Cannot wait to get a dry weight on this pretty girl. Her clones are sitting neatly in 1 gallons ready to go
In case anyone is wondering, I just harvested some Jack Herer AutoFem a day or two ago by Demonic Genetics on Strainly.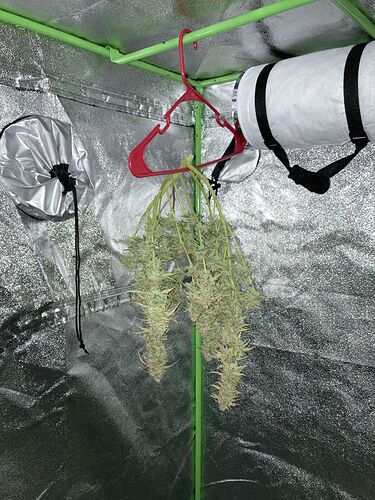 I messed up the feeding schedule on my autos and locked them out. Then I over watered trying to correct it. Thankfully this JH was a beast and flowered well throughout. Can't say the same for the other 3… sheesh what could've been
We live and learn! I'm certainly not upset as I just smoked a little tester bud I let dry outside of the tent. Talk about POTENT. And sticky. Yes sir
This was the last pic of the 4 of them together in the tent, a few days ago over the weekend.
Purple
So pretty
The ants
have overtaken my pants
to say the very least!
It still has a lot of green leaves

Have you started flushing?
She is beautiful
Isn't she tho
No flush yet. Decided to let her go until this morning. Let the flush begin!
Thank you growmie @Fluffhead I am so psyched
I've got too many beans to choose from for my next go. And also hot sauce to put all over them before I smoke so I know it's super fire
can't wait to test them all out.
so many new strains out there but chemdawg and all of its many lineages are epic and the original is so distinct I can't wait to pop and get a whiff of that lemony gas.
I have some really great options. I keep forgetting to lay out all of my seeds to decide from but that will happen very soon!
In the glass vial is…Fluffhead!! By DNA
genetics (fem).
enjoy growmie