ok I have that stuff not the 4.0 an 7.0 we're do u get that from the grobo team?
They outsource from blue labs, which you can find on Amazon
Thank u
for that
Great pics @Bplatinum9!
Two questions for you:
Did you use a toothpick to 'soften up' the coco pod like I do in this video? Looks like your little one is having trouble getting it's footing.
Did you put a bit of peat pod on top of the seed? This helps pull that seed casing off.
Cheers,
Stephen
I used the tweezers the start came with to soften the pod.
Covered the holes with coco from the bottom of the pod.
The stretch is weird, any ideas on what can be done to save her?
I put a bit of water on the seed hat and put the dome back on but I think your right about the footing because when I lifted the dome to add water on the hat it fell right out of the pod.

Thank you! We appreciate you!
@miami5th that was awesome, thank you!
@Bplatinum9 best trick I've found to help the seeds start out in the peat pods is the toothpick. Make 3-4 tunnels under the spot where the seed will rest to give those roots a spot to grab hold! Looks like your surgery will work too.
Cheers,
Stephen
Thanks for the tip!!!
You asked, I'm delivering! Hope these help!
The pics that the net pots sit in are the new lid and the one I just set on top is the old lid.
Side by side, front & back!

New on top of old.

New with old coco pod inside…

New on top of old, back side…
New…

New with old coco pod sitting on top of net pots…

Old lid with new net pots…

Thanks @Bplatinum9, looks like the start won't work with what I have in mind…that's a bummer.
Sorry! I just labled them. The new lid is $21 at grobo.
could you do me one more favor??? a measurement of the new lid opening…PLEASE???
Great job taking such clear, definitive photos of what we all wanted to know!! Thank you so much for doing all of those comparisons just for us!!
And wow, your old lid is so spotless, you can really tell what an excellent job you must do cleaning between grows. (Must be why I asked your cleaning advice, ha!
)
I think regular alcohol and cotton pads work the best to clean the walls and lid of the grobo.
It gets right down into the sticky stuff!
Vinegar a find water for the reservoir but this time I used zerotol hc because it was super filthy wanted to clean the bacteria.
P.s. Use the alcohol on lid when its in grobo while growing and soap and water in between grows.
Got mine setup today. I'm still several months away from needing to start cannabis(my two Grobos are both in late veg stage).
In the meantime thought I would try some Kale, & Arugula in it. I have AeroGarden in the mail, so figured between downtime I will use it for non-cannabis.
So far setup was good(the plastic tape did not come off well was only downside, I had to use rubbing alcohol to get sticky stuff off)
App seems to work for it now as well in latest update.
One feedback item I can think of would be to have the recipe box show more types of herbs and what not that can grow on the starter, since it's not needed constantly to grow cannabis. I know the recipe for starter means nothing, so this would be simple addition, and then app could show what you are actually growing. I have mine set to baby romaine, but have kale and arugula in it.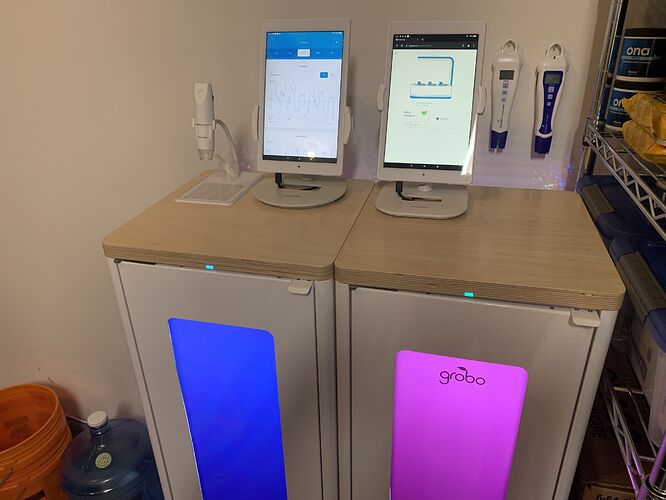 I'm tempted to get an Aerogarden now because of you
Thanks for the review @Bplatinum9 … just pulled the trigger and got myself the Grobo Start and Adapter Cover… Merry Xmas to me
Should save me some time for my next Grobo plant