I would if I were you because THC will be too low if you do it now.
You think she can take another 25 days?
She needs about 2 weeks to mature then ten days to flush so yeah!
Leave her in late veg until you go then stickher in flush until your back.
She will be ripe!
Music to my ears, thanks B!
I wouldnt be keen on leaving her unattended. Would pull down and hang on the day you leave.
My father is house sitting so she won't be completely SOL if shit goes down. That said, he hasn't harvested a plant since the 80's not to mention I don't want to miss out on the harvest of my first plant!
He will be back 2-3 days after water change is needed.
If it was late veg or flower stage I wouldn't recommend either.
My pops can handle the water change
@SWSVIC it's been a pleasure to watch your first grow journey! The bud is looking good.
I'll stop by and check on it for you!!!
I'm so excited for you. You are so involved in the community and it's been a pleasure watching your plant grow and learning from you as well.
Agreed, @SWSVIC she's looking amazing!
Day 133 (Flower day 61/69)
I'm not sure she'll be ready for flush on Saturday (day I leave for vacation). It is dumbfounding how long the trichs are taking to ripen, that said, the buds continue to grow and thus yield is increasing, the lower level buds are especially thickening up.
@vegetato @chris_barfield @Bplatinum9 @Todd.grobo please see pics below and let me know your thoughts on whether or not you feel she'll be ready for a 10 day flush in a few days or if I should consider waiting until after I return in 8 days to initiate flush.
The last two water changes have only been supplemented with Hydroguard (post nutrients & cal-mag distribution). As shown in the picture below, the Grobo continues increased usage of bottle 1 keeping the pH at 6.5. I am not thrilled with the continuance of what I believe is nutrient burn, as seen below it has begun to effect the larger sugar leaves… any input on this would also be greatly appreciated.
Thanks again to all for reviewing and commenting on my grow, it has been an awesome experience, now if she would only ripen so I could chop her down I'd be very grateful!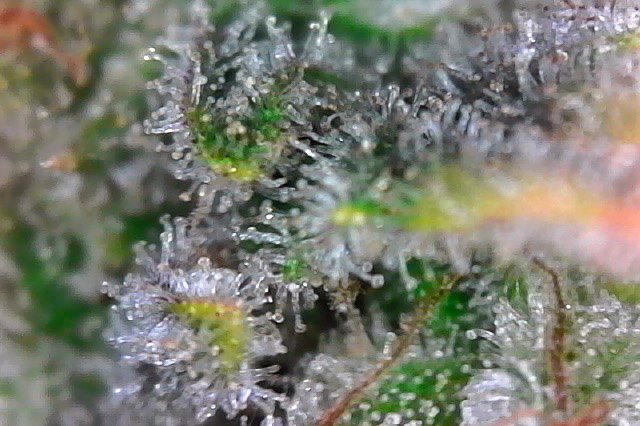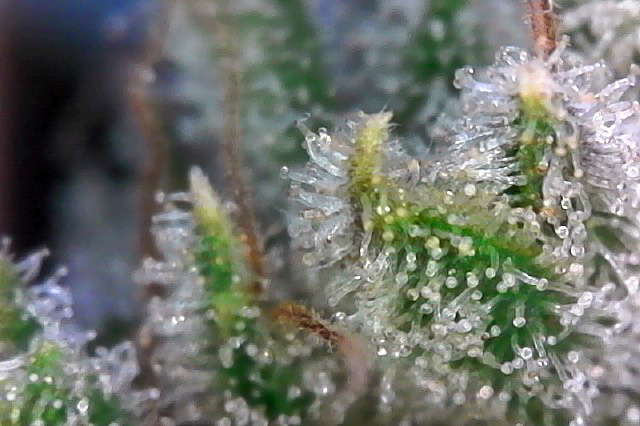 Looking good!
My recommendation is to wait until your back because trichomes are still very clear.
She looks great! I can see quite a bit of amber trichs in some photos. I'd say maybe 20-30% amber in a few pics. In the other pics the trichs are mostly milky cloudy.
I would say start the flush now since it's at least another 10 days time. you can always extend the flush.
Good Job My Friend…I don't Know if GroBo gives you a print out of the Entire Run… I ask because I calendar everything I do to the plant so can dial that strain in on another next run in three future. Did she take ( nutes ferts ,bending , trimming ,) well.
Kinda like making understanding your wife or relationship …Dinner
She likes Chinese but she doesn't like Chinese from that place she likes pizza but not allot of stuff piled on it …knowing your Strain

I did the same my man, have everything noted in chronological order. You better not order Chinese from that one place!