After 1 Month of aging we are at 2 oz.
Smell is very light and sweet getting stronger with aging.
The high is energetic and amazing! this strain has gone beyond any expectation!
Cant wait to try it with a 2 month aging time!
Nice Grow!
I cant believe my SSH is so far behind. But I am glad to know yours worked out so well, sounds like exactly what i was hoping for from the strain.
Wow! That is an incredible haul! Congratulations!
Looks like a light show…and good haul
Yeah the lights are trippy!
I love growing this strain and easy and provides a great smoke!
I cant wait to weight this haul
@Ginseng these clones are from supersilver haze ILGM as well any idea why these leaves keep turning yellow? Ppm at 450 ph at 6.0, stays stable, has new growth all the time but the bigger fan leaves keep doing this. I have to keep cutting them off eventually cuz they just get worse until they die, that's why there is only like 4 left. It doesn't happen to the smaller ones just the big ones. Took this clone on Dec 4th, was in here with this for root gel about 2 weeks. Had roots just like these when I transfered to the 5 gallon bucket.
Looks like light bleaching/burn. Especially if your PPM is that low. Are you growing in a Grandma's Secret Garden, perchance?
Also, I'd suggest you add more clay pellets. Enough to block out the light filtering thru your pots. Everything looks beautiful now, but you're courting danger with that light leak.
…
- - -
…
--
---
~ ~ ~ ~ ~ ~ ~ ~ ~ ~ ~ ~ ~ ~ ~ ~ ~ ~ ~ ~ ~ ~ ~ ~ ~ ~ ~ ~ ~ ~ ~ ~ ~ ~ ~ ~ ~ ~ ~ ~ ~ ~ ~ ~ ~ ~ ~ ~ ~ ~ ~ ~ ~
@Centervillain Thats what I was thinking too.
Originally had them in a 5x10 tent.

Then I gave some away to a couple friends. Now this one is in this. Right now I have the light as high as it can go.
The little box is a clone box with the blue light to promote root growth, that's this one.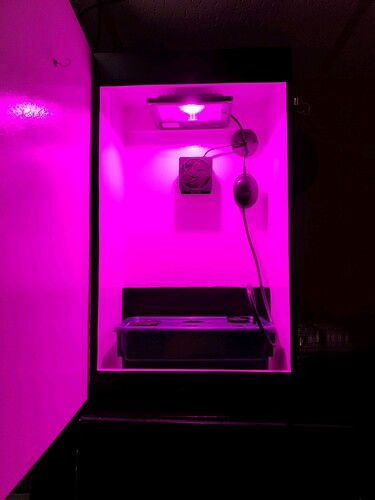 And it is about the size of a Grandma's secret garden.
@SilverGrobo thanks those are great! I use advanced nutrients pH perfect micro, grow and bloom, so I'm not sure what I would add to correct this if it does have to do with the nutrients. I do have them in the half strength feeding right now. Maybe I should do full strength and that would give her what she needs? Water change is tomorrow I might try that…
Sorry, Also running AN 3 series. Don't mean to be 'stalking'…
Mines like 6 feet tall. I started with the grobo and the boxes because a friend gave them to me (was so excited the day I picked them up and actually had them in my possession)!! I just got this system and built it in a straight line just like the 5 gallon buckets in the tent.
I can't wait to get something in it!
Advanced Nutrients 3 part base (Micro Grow Bloom).
I'd love to try fallponics, at some point. Those boxes are killing me. Definitely Grandma's Secret Gardens. The company that builds them are not quite competent. Miine was built upside down - your cloner looks the same (I put mine on wheels - the Grobo is next). The tower looks right. Your friend is amazing. That shit isn't cheap.