It will appear eventually.
Early Veg 7/14
…

Just lifted pod fully up so its just resting in the hole (No Dampening This Bloody Time
)…
Looking good atm me thinks anyway
Looking good but I'd leave the lid alone roots like darkness and those roots eventually can grow around the hoses so opening up the lid raises the chance that roots will get ripped off

Just a suggestion you can do as you please
It was just a peek
!
!
Trust I know how it is
just looking out for you and your little one
Just done a water change Early Veg: 12/14 & although my R.H is showing a healthy 45-50 I've noticed a Very Fine Condensation on certain surfaces & wondering if its norm
??
Apart from that all looks good
A little more filling out & she'll be ready for her first Top in a wk i recon but in no rush
!!..
Hi all

I'm hoping for some advice from the pics as to if I'm ready to Top or leave for another wk
??

You should wait until the plant hits the 5th node (sets of leaves on the plant). I only see 4 nodes. Looks healthy so far m8
Wasn't sure if it was 4 or 5 but thanks for the confirmation
!!
I know I scatter my posts & ill try to remember this post/grow I promise
& My New WiFi RH/Temp meter is up & running
Couldn't fully reach the back
! Think she's lookin good tho

Keep her healthy now
!
!

Time to put the Tidly Winks" away people's
Av fun!.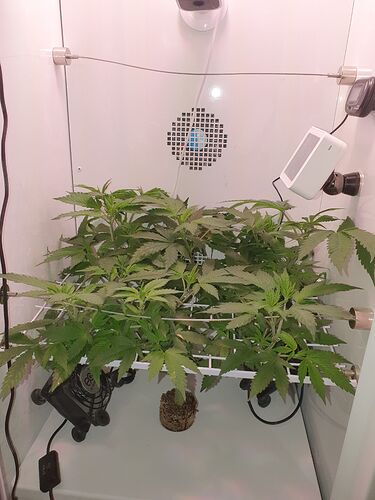 From pics am I OK to let her carry on into Transition or extend for yet another wk
?? I understand that all my LST has really slowed her down but hopefully worth it in the end
!!
I'm 50/50 to be honest
!
!
Sorry but I'm finding it really difficult to figure out Why I feel like I've been sent to Coventry"
IF there is a issue I wish someone would kindly let me know
Are you using RO or distilled water in your humidifier? I didn't at first and it covered my entire room in a fine white powder, all the impurities that were in the tap water I was using. I switched to RO water and everything is fine now.
Same thing here. I began to notice a powdery film on everything in the room with the humidifier. I looked into it deeper and it's not only bad for your humidifier but it will ultimately be bad for your plant and even you. I use only distilled now.
I'm using Britta Filtered Water fitted to my tap for my Humidifier & Grobo & with no issues apart from…
Just done a water change & noticed this
!!.. Should I be concerned
??
& do I still leave her in LG for yet another wk
??
Some advice as previous would be much appreciated
Shouldn't be much of an issue I would keep an eye on it and if it continues send a ticket probably a slight nutrient dispense issue
Just out of curiosity did you ever check the ppm of the water before using it? Just curious I use the zero water filter for my machine would much easier to have one of those britta on the tap

Also should be good to go to transition/flower when it's at the second fan
Did you do the drill? Clean/calibrate sensors, check air bubbler, water temp, stem, roots, blah blah blah?