I just bought a Grobo Solid and a second Solid Refurbished, anyone ever pick one of the refurbished unit up.
Congrats, I just bought a grobo. How did you know if you purchased a refurbished unit? Are they cheaper or do they come with different color tape the. What the set up says to remove a yellow/red tape? Mine were black electric tape. Anyway good luck looking forward to seeing the two in action
Hey dude, yeah you can purchase them off the site. They are located on the dropdown menu under refurbished units, they are also a bit cheaper. I'll keep ya posted
I can only imagine how many grobos are in their graveyard due to fedex and ups handling them. Refurbish sales sounds like a great option since it also comes with warranty
I can't wait to hear about your adventures with both!
Started up both grows today, I got the new grobo germinating a Dutch Passions AUTO Power Plant running the generic recipe and on my refurbished unit I got germinating a G13 Labs AUTO Pineapple Express running the G13 recipe. Day 1 I'll keep ya posted
(You Are Going To Want The Generic Recipe With The [A] For Autos): []:



(18 Hours Of Light For Autos):
https://www.allgrowers.com/t/autoflower-setting/127/7?u=silvergrobo
https://www.allgrowers.com/t/stages-of-lights/5984/12?u=silvergrobo
--
---
Yeah I did get that correct both my recipes are in fact the AUTO recipes
Finally got my first signs of life on my Dutch Passions Power Plant Auto day 3 germination, couldn't be happier
And my Pineapple Express Auto G13 day 4 of germination
Grow grow grow!! The race is on, lol!
Day 7 germination not sure when the first water change notification will come but I'm trying to be patient lol, also I wanna introduce hydroguard to the mix just waiting for the water change. Anyone got any recommendations on use of hydroguard.
Pineapple Express Auto above
Power Plant Auto below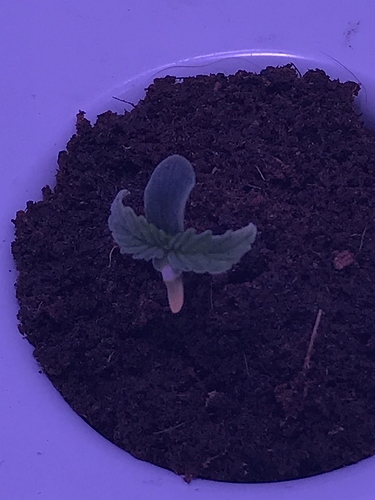 That is one very long tap root! Nice!! I am using 5 ml, or 1 tsp of hydroguard per fill. That's what I believe the bottle said to use, idk, I have a very difficult time with small print. And then when I have to get a light and magnifying glass, all reading comprehension goes straight out the window.
I think you can use a little more though, we'll see what others say, and I think I might start increasing mine if so.
Sweet I can't see that print without my glasses LOL so I totally get ya. I went with the 5ml in each with the water change hopefully they keep on growing. Yeah the Pineapple Express has some nice roots growing the Power Plant seems a bit slower but I'll keep ya posted.
Also incase this helps anyone else : I had issues with my water temps and along with introducing Hydroguard support told me to try out Swapping a Ziploc bag of Frozen water twice a day seems to be doing the trick for me so far
Day 8/10 Germination did first water changed and introduced 5ml of hydroguard
Pineapple Express Auto

Power Plant Auto
Day 10 of germination on my Pineapple Express Auto and she is looking great, growing quickly and great root development

Day 9 of germination on my Power Plant Auto and she is growing a bit slow with a gangsta lean but she's finally got her first root development
Well I believe everything looks good if anyone has any feedback or recommendations I'd like to absorb it all in first time grower