Lookin' good! Her first leaves look like some daggers
Yes. They are curled and I'm not sure what that's about. I do have a humidifier vented into the back intake fan since my humidity is so low here. 29%. Maybe that's why?
Hmm… possibly.
Potentially COULD be a pH pen issue, but I wouldn't be too scared yet because the newer stuff is looking fine. Both of my girls had pretty funky first leaves, and turned out just fine.
How close is that humidifier from the back? I would hate to see you kill your unit if the mist is going straight into the back of the Grobo.
It's really close. Directly into the fan port.
Be careful @Tebori
A humidifier in the back of the Grobo facing the fans can destroy your unit! It might work for a few weeks but once the water builds up in the electronic components, it might be toast.
I find that a humidifier in the center of my room does the trick, the output of the humidifier is quite far away from the Grobo.
Not good. I'll stop that now. Hopefully no damage has been done yet.
Lookin' good and healthy!
Might be damping off… I'm no expert
You may benefit from lifting the coco pod, but I'd read about damping off and assess on your own first.
Solid article, and there are some useful tricks for combatting this, like a McDonald's straw
Your stem may very well be healthy! But take a read and assess on your own.
Good work taking a pic!
…
…
…
(If Your [Coco-pod] Is Dried Out -Then- You Might Have Good Genetics Pealing Off The Outer Stalk -And- Revieling A Thicker One Underneath): (If Your [Coco-pod] Is Damp -Then- You May Want To Lift Your Pod Up A Tad To Fight Off [DampingOff]):
- - -
@Tebori,
…
--
---
~ ~ ~ ~ ~ ~ ~ ~ ~ ~ ~ ~ ~ ~ ~ ~ ~ ~ ~ ~ ~ ~ ~ ~ ~ ~ ~ ~ ~ ~ ~ ~ ~ ~ ~ ~ ~ ~ ~ ~ ~ ~ ~ ~ ~ ~ ~ ~ ~ ~ ~ ~ ~
Nice growth spurt there !
Tips and tricks for keeping a flat canopy? Some of my branches are growing taller than others. Mainly in that right corner as you can see. Also when does lollipopping start and defoliation? I've been doing some here and there as I go. But are there time frames I should focus on for those tasks? ! Or is it still too short to focus in training? I've read the articles on scrogs and plant training but honestly wasn't very helpful for a newb. image|375x500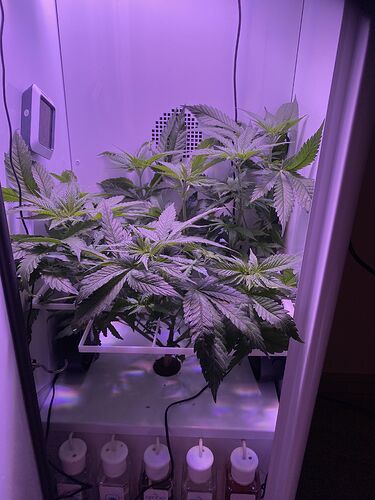 Well, if she's in veg, you'd be able to bend over the stems to even it back down to the lower stems. Some other tricks include supercropping and maybe some defoliation to allow for better light penetration through the canopy
I can't find that video on lollipopping anywhere. Can someone share? At what point is it best to lollipop? And do fan leaves up top that are blocking bud sites get removed still too?
Usually we lollipop right before flower and the weeks leading up to it to promote upward growth. In the Grobo it is done continually until the plant is optimal height and there are no lower growths on the plant that might hinder large bud development.
Yes I'd remove leaves up top covering budsites as new ones will take their place in upcoming weeks. She looks very healthy!
Here's the video of @Stephen that I've watched like 5 times myself! [How To] Grow Cannabis the Easy Way in 2021 - YouTube