The Michael Scott vs Toby face it looks like to me ;D
No I think you're right. Ugh
all that distilled h2o… I can't help but feel guilty
Well, you recycle them I hope?
edit: Sad part is there's no telling if it actually gets recycled half the time or if it just gets sold and dumped in a landfill ><
Yeah. I'm gonna go take a walk and figure out my plan and stuff. It was a crapshoot to begin with. Ugh lol
Well this was fun growing! 2 grows and 0 harvest w/ Grobo. Both my own fault.
It is what it is. Stick with me here guys I'll keep chugging and somehow, some way, I'll pull a hefty harvest out of this machine. My next seed will be Gold Leaf (fem) by Crop King seeds. I'll use the ILGM recipe, unless folks think the generic would be better?
I usually keep them and fill them with tap water and dechlorinate that and save it for my tent plants!
I might use some as plant pots too, I like the handle.
Gold leaf germinating in a ziploc/paper towel above my cable box (for warmth) and next to my prized possession of dvds

Now to clean my machine…
Here we go!!! This time it's gonna be a girl : )
Your encouragement is greatly appreciated my friend! Thank you

Grateful for my babies in the tent. The have had their share of ups and downs as well but I'm so incredibly excited to try them! Day 41 of flower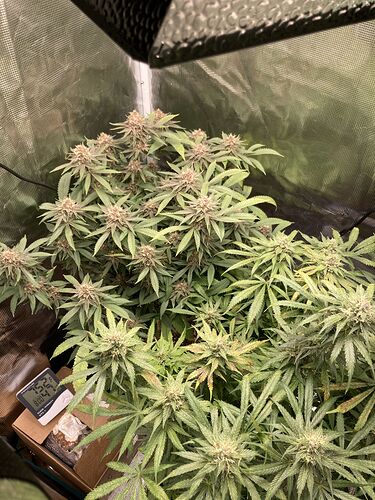 That's sucks it was a boy. But your tent is looking nice
Thanks. Yeah, certainly does! Learning experience though. As those much wiser than myself often say…
Que será, será…
Tent plants are lookin' great
At least you don't have boys in there
First off sorry to hear about the male that sucks.
On a different note your tent grow is coming along very nice
Thank you, yeah truth! Hopefully the Gold Leaf will come along much more smoothly… third time is the charm
Boy it is ,sorry to here that
What did you do? I kept reading that it's your fault.
It's a male but it's because I planted a reg seed. Ordered seeds w Grobo and but they just came in. Just luck… they came in last week
Germinated a Crop King Gold Leaf and cleaned my entire machine last night, fill/drain with dechlorinated tap and filled res with distilled water. Unfortunately when removing my air stone I managed to break the valve off of the stone itself. It's okay tho, I have a better one that diffuses more air. Also have 2 smaller stones running at their lowest on either side of the Grobo. Everything looking pretty solid. Quick turn around this time
I think I'm going to stop posting in this thread and start a new one… everyone wish my Goldie luck…
Nice! Sprouted already
Good stuff.
Cable Box method confirmed
Good luck! Start a new thread for the new baby
Is that the same as Bergman's Gold Leaf from ILGM?
As far as I'm aware it's not the same as Bergman's, but I figured I'd give the recipe a try.
I'm planning on allowing for a 14-20 day germination stage to let her get off her feet on just distilled h2o before I introduce any nutrients.
Sounds good… should be fine without nutes