She looks healthy. Keep the roots in the dark they don't like the light. Other than that is all good
Hello Baby
!!
Lookin good m8
Also, make sure that pod is dry. There shouldn't be moisture in it at this point.
It's still pretty moist. Do i have to wait for it to dry naturally?
can you put a small fan on it? something to help the pod dry out. this will keep it from dampening down.
Guess I'll need to get one
She's looking good
. You can keep her off from dampening by gently raising the coco pod above the lid cover
If her Tap Root/Roots are in contact with the water & it looks like they should be by now you can then Carefully raise the pod up & away from the being over soaked by the water which could Easily cause Dampening Down" & cause you nightmares & possible
!..
Believe Me
Learning curve apparently
!
!
I ended up just resting it in the hole & its worked a treat up to now
Just would hate you to make the same mistake I did m8
& yes to the Fans
Makes for a stronger plant too!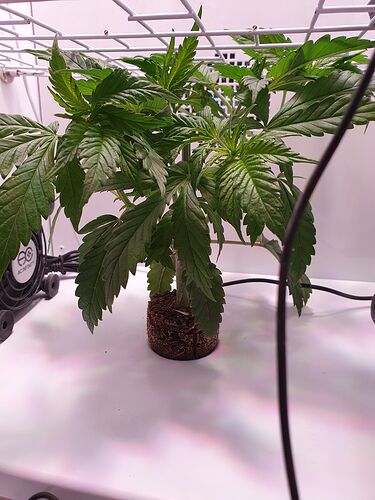 Happy
Am I missing something
!..
Nope your looking good from where I'm sitting I think the pod a bit to high but that's just me…
Nice 1 thanks
Just didn't get the Very happy" comment
! Lol
She's does look high i agree but roots were well established when I lifted her & all good so far
Just wish she'd hurry up & grow so I can really start to strech
!
!..
Twitch! Twitch!
…
Obviously it would extend the grow
! But If I need more growth for stretch would extending the Veg for yet another wk cause any harm
??

& Lastly…for now
Would you do more fan leaf trimming Now for better node growth
??
Cheers
I would extend late veg atleast until you get to the sec fan
…
…
(

#Welcome

):
…
(She Is So Cute): (She Is Ready When The Time Comes):
…
(#TeamHasGotYouCovered): {}:
…
…
…
…
…
- - -
…
(No No, It's Not Even Close To The Second [] Fan Yet):
…
…
--
---
~ ~ ~ ~ ~ ~ ~ ~ ~ ~ ~ ~ ~ ~ ~ ~ ~ ~ ~ ~ ~ ~ ~ ~ ~ ~ ~ ~ ~ ~ ~ ~ ~ ~ ~ ~ ~ ~ ~ ~ ~ ~ ~ ~ ~ ~ ~ ~ ~ ~ ~ ~ ~