Looking good mike!
Happy growing she looks happy
She looks really nice
Just another little tip on the side, ordering an extra set of nutriment bottle no. 3, 4 and 5 would be nice on your to-do list.
I say that because you will most likely need them before the end of this grow.
(or you will have them for your next grow
)
With distilled water, bottle number 1 and 2 will barely move but the other 3 run empty pretty quickly… especially in Flower mode
The only time i have seen bottle number 2 emptying quickly was after having root rot problem caused by a dead air pump that i discovered a little too late
Got you covered @Ben

It's an excellent point to have more stocked up
I was actually planning on ordering more this weekend coming up, I like keeping and extra set of bottles that way you never run low and when you get to veg/flower it's gonna drink them up fast!
I'm also glad they have air stone replacement (it's been a while since I've been on the shop site
) I plan on getting a few as well they might be something to keep a spare of too lol
Also it's that time of week again water time and they grow so fast lol
Babylon Low Di Herb!
I forgot to post this weekend but here we are water change time
Also gave them a hair cut was a little shaggy
It's that time again I ended up doing a little Heath check on my probes and ended up needing to calibrate them I noticed my leaves had some orange spots and looked a little sad and I bet ya that was the problem there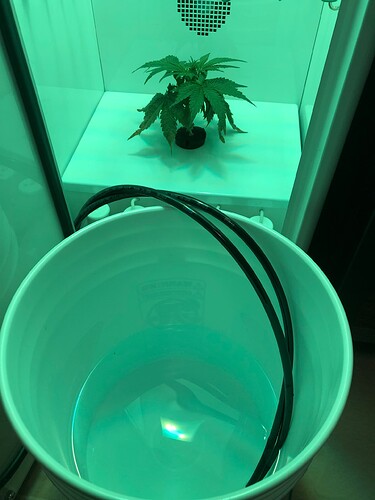 I just realized In the picture of me doing the health check I meant to hold this up instead
!
Not sure how knowledgeable you are bud but…
Hope this helps now or the nxt
I know my wire version isn't as nice as those but I find it does the trick, I have looked into getting those shelf racks and cutting it I havea lot of that wire handy and it's served it purpose in the past but thank you for the advice.
It's another water change time and it's getting taller woot!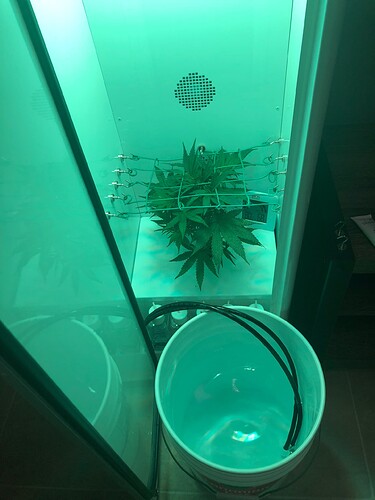 Oh how it has gotten even bigger these past few days.
I trimmed some areas so that way more light will get to the bud sites, can't wait to see how it absorbs that extra light and what it will look like next week🤘
Here's another weekly water change woot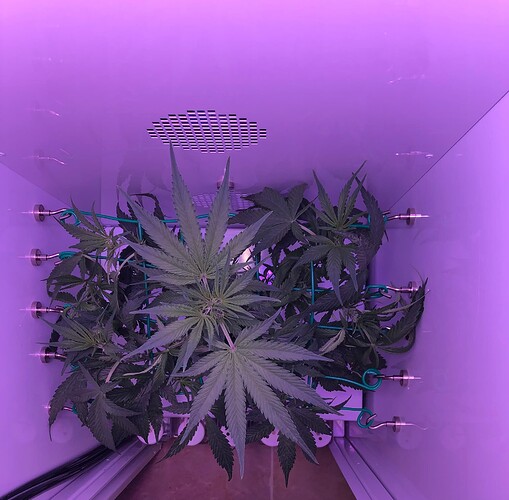 Oh my how it has grown!
I can't wait to see with how the buds fill out, I could of did some more lollipopping to try for some big old buds but I'm just going to see how this goes.
Also it's water change time and I check up on it the other day and the main cola was a good distance away from the light and today I had to bend it over as it was touching the light and getting burned hopefully it will bounce back😅

Once again another water change oh the buds just keep getting bigger can't wait to see the end result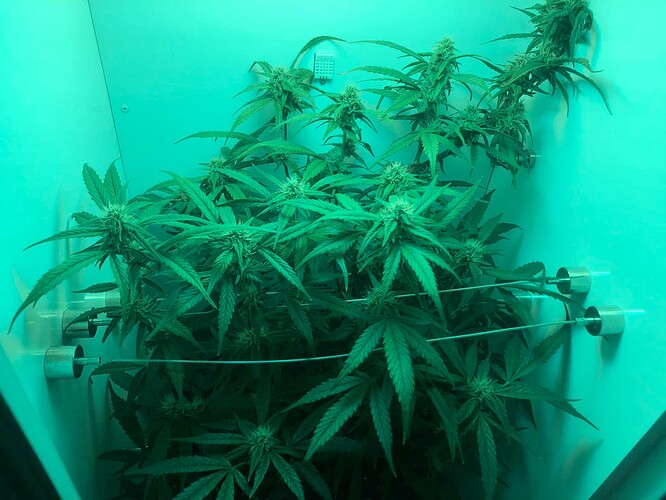 Also just got my restock in for the next while I can't wait till this grow is done to put this new air filter on
Looking good. I would have held off on paying for all those small bottles of nutes as I heard RUMOR they might start selling larger bottle to refill the little ones. I only buy 1 extra at a time in case the grow runs out.
I heard that rumour too, would be awesome when they get large bottles.
I only ordered like this because last time I order there was issue with shipping so I figured might as well stack up lol also here is another water change oddly enough I didn't get the notification this week for a water change but we got it done anyway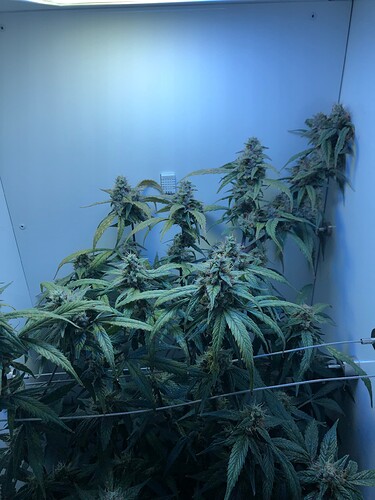 Here we are day 86 of growing the app says there is still 29 more days in flower
looks pretty much ready now I'm still going to let it go the full length to see how big these buds get and to get the most amber out of these trichromes it's getting there few specs here and there but all cloudy wish I had a better camera to show you all lol
Here we go another water change

For some reason I haven't been getting any notifications for the water changes 🤷

I dont have the best eyes, but isn't that starting to get brownish leaves or is that OK?
The leaves are getting brown it's coming to the end of its cycle won't be long before it goes into flush I definitely need to recalibrate my ph probe again that's for sure