Hey @ramsay504, the cocoa pod looks saturated. Any growth up top? Normally you would see a sprout by now. What are your air temps, water temps, humidity? Is the air pump working?
Also check the top of the cocoa pod. If it's soaked it may need to be pushed up to avoid getting soaked. This is a common issue with the Grobo if so.
I see tiny roots. Air and water temp in the 70s. Humidity 50 ish
I saw the picture of the plant and it looks fine, just a slow grower. Check on the dampness of the cocoa pod, that's important.
It's too damp and droopy. How do I fix this. I run a humidifier at 50 all the time. Is that the problem ? Help. Please. She's droopy and the pod looks moldy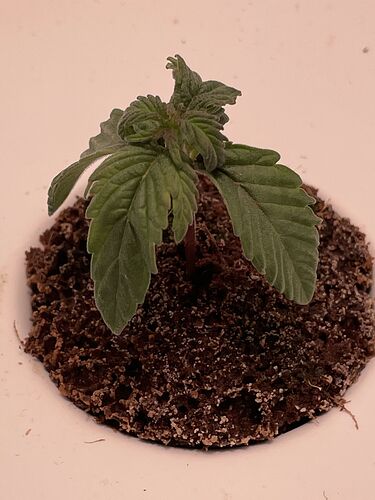 I may not be the one to respond since I lost five in a row to dampening off. Search "dampening off" and follow the threads on how to combat the issue. Stephan has put together a couple helpful things you can do to save her. Don't give up yet!
…
…
…
(#TeamHasGotYouCovered): {}:

(You Can Save Her With The Teams help): {}:
…
…
- - -
@ramsay504,
(We Can Follow You -And- Help You Easier If You Keep Your Grow On One Topic):
…
…
…
…
…
https://www.allgrowers.com/t/help-does-this-look-ok-17-days-all-temps-and-humidity-seem-fine/9808/5
…
…
(What Would All Growers Look Like If I Packed Every Day Of Our [BudzillaGrow] Each Day On-A-One-Day-Topic):? (I Shared Every Day Of The Grow In One Topic -Not- Each -And- Ever Day On One-A-Day-Topics):
…
…
(Growers Can Follow Your Plant As You Grow Easier In "One Topic" Than Over 100 Days Of Topics): (Growers Have Lost The Point Of What A Topic Is):
- - -
…
…
- - -
…
--
---
~ ~ ~ ~ ~ ~ ~ ~ ~ ~ ~ ~ ~ ~ ~ ~ ~ ~ ~ ~ ~ ~ ~ ~ ~ ~ ~ ~ ~ ~ ~ ~ ~ ~ ~ ~ ~ ~ ~ ~ ~ ~ ~ ~ ~ ~ ~ ~ ~ ~ ~ ~ ~