Day 12/14 early veg
Plant is coming along nicely, looks healthy and is fanning out well.
When should I top this? I'm unsure!
The four big leaves at 12,3,6,9 o'clock can all come off. Let the little branches and bud sites below get some light! otherwise, she looks great, you're going to definitely want to extend her another week.
Lol. I was just scrolling and found this. Cool. I'm at the same size but only in the middle of vegetation. My lower bud sites are about two inches long now.
I almost did it today. But thought it might be to early. Thank you
Looks great
Ok done - removed. Feels a bit strange though, did I get the right ones?
Also by an extra week, presumably you mean extend this current veg stage?
Maybe I got a bit excited, but potentially think I chopped two of the smaller ones off my accident.
Any issues/concerns with this? I made sure to just get the fan leaves only.
Looks good.
My rule is this…
Only take half of what you think you should. Cutting helps but too much will slow her down. Just a little then ignore cutting for a while then revist. Only half of what you think you should. That way you leave some and won't hurt her.
Just my advice. We can always go back and cut, but we can't glue leaves back on…
Thanks, appreciate the advice and well noted !
UPDATE
What a difference a day makes… Tempted to remove the next largest fan leaves to get light below, as the removal yesterday seems to have had a very positive effect.
I see the light! Is what those bud sites are saying.
I removed some fan leaves also. The bud sites took off. Plant looks fabulous
Day 25 (early veg 15/21 - extended by one week)
She seems to be very healthy and growing like mad!
At what point should she be topped, once above the first fan?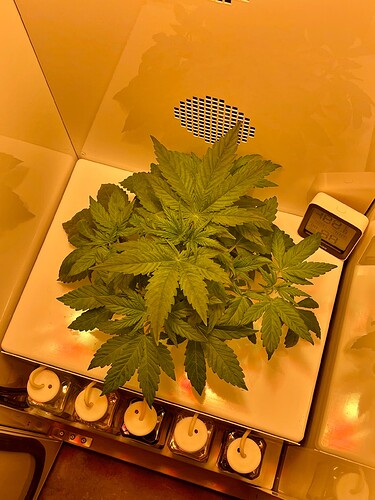 Five nodes up. Looks ready now? I topped mine around the same time.
Yes have gone ahead and done it now - definitely 5 nodes and topped her.
I assume all good/no issues ?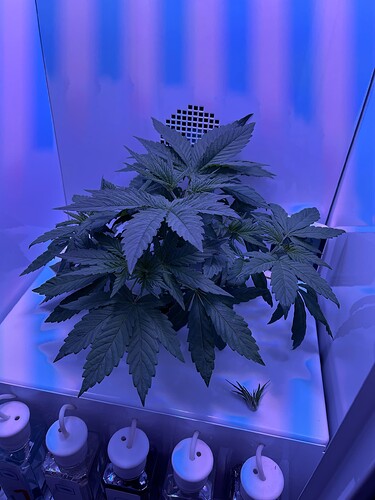 Looks great
. Those two tiny new ones should start taking off in a few days. I maybe should of let my center get taller but it worked fine.
Four days later. I also as time goes on plan to trim on my water change days. It's what I've been doing. Gives the plant fresh nutrients.
Nice - good to know! She's looking sweet
Hey Gunk,
What strain and day is your grow on? Thank you sir your plant looks amazing happy growing!