Where is the best recommended placement for a humidifier?
LED suppose to be resident to humidity and I have looked at my system it's fine. The only thing that's not working is the LED light so I'm not sure how I feel about their response it being my fault to why the uint LED isn't working. I know how circuit boards work and nothing would be working if the humidity was the issue. I've had a problem from day one of receiving the unit and now my only solution they can give me is it's my fault and I have to pay 219.63 (circuit board), 160 (Stack up) and shipping 175 that's crazy. After evening saying ill pay just to see the invoice no one responded. Here is a picture that nothing is wrong with my circuit board because the front LED and fans and everything wouldn't be working.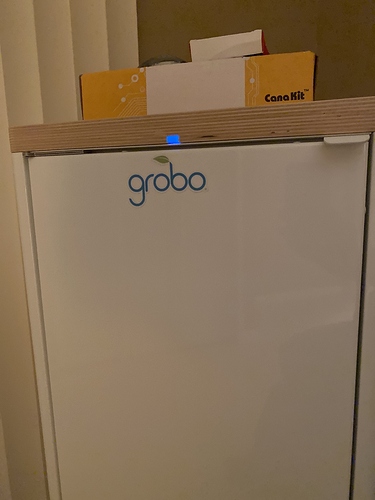 I've had it a month and no warranty covers nothing but the outside it seems.
One thing that I did notice is one of the wires going to the user button has a cut in it. I circled it for reference. It isn't something that would cause your light to stop working, but it definitely isn't safe.
Just because the LED is supposed to be resistant to humidity doesn't mean that the connection jack on the mother board, or the ribbon cable itself are.
Most of us have it pointed at the wall behind the Grobo, this helps diffuse the humidity so the machine isn't sucking in too much.
Also, because the circuit for the fans and the front LED are working doesn't mean that there isn't something wrong with the connection port for the LED light itself. The only reason all of them would fail is if either the external power supply went bad, or the power supply connection on the mother board went bad.
Either something happened to the connection for the LED light, or the LED light itself died. Several people on the forums have had the LED light die on them recently.
It's the glue that's on the connection. Understandable then just give me options to replace that. I'll test it out.
I'll try replacing the power connector and LED light.
Hey @Mookie,
Just finished chatting with @Dani and our hardware team. We can absolutely send you the LED Stack up to start your troubleshooting with, sounds like that is the plan, and an invoice is on the way. Dannielle responded to your inquiry this morning. We strive to answer all emails within 24 hours and can often respond the same day.
One point I wanted to clarify with you. When you say 'I've had a problem since day one', all the support team is aware of is the trouble you had Friday at 4:45pm getting onto wifi. We had a support call scheduled for the following Monday, but you were able to get online and start your grow on your own over the weekend. I also see that you reported your intake fans were not working, but discovered that they are not on for the germination stage and they are in fact working fine. Is there something up with the unit we are not aware of other than this?
I'm really sorry for the rough start you are having, our team is here to help you have successful grow after successful grow. Dannielle will provide a couple repair guides to assist in getting you back up and growing again as well.
Once the parts arrive, let us know if you want to jump on a call so we can assist.
Cheers,
Stephen
The Wifi issue was the button on the the back not being connected in shipping. I found that out by taking off the back panel. I figured that out when I read a couple of forms saying check wire connections. Thanks for all the help and I'll be on the lookout.
Hey @Mookie,
Understood. Your repair parts are on the way and should arrive by end of day Monday. I've included a couple cocopods and some ESD gloves for the repair as well. Have a great weekend!
Cheers,
Stephen
Fantastic! Glad to hear the light is up and running!
We are all rooting for you!!
Awesome news @Mookie!
Let us know how this grow progresses, we are here for you!
Cheers,
Stephen
Hey @Stephen I'm having trouble with my grobo AGAIN!!! I come home from work early seeing that my lights were on. I tried a couple of times of changing my light schedule and nothing happened. Now, I know my lights hasn't gone off in two days. After noticing that I did a factory reset and now my LED light and my pump isn't coming on. I just got this new LED light so I know that shouldn't be the issue. The only thing is working now is the blinking front light. I am currently in a grow 9/10 and don't want to lose my plant. Could someone one please correct the errors in this unit. I am attaching a picture of my temps to show nothing I've done could be the issue.
https://www.allgrowers.com/t/grobo-completely-cut-off-urgent/8104?u=silvergrobo
https://www.allgrowers.com/t/brown-leaves-on-first-grow/8096/7?u=silvergrobo
(I Am So Sorry This Is Happening To You): (I Would Get A Back-up Bubbler To Save Her From Lack Of Oxygen): (For Lights On; You Can Use A Regular Lamp To Give Her Light):

(You Can Also Respond On The Same Ticket You Opened For The Begining Of Your Topic):

(

#GroboLight

): (ThisIsSlowBlinking):
https://www.allgrowers.com/t/connected-to-the-grobo-no-led-lights-resolved/2981/42?u=silvergrobo
(AnythingFasterThanThisMeansItIsSearchingFor [Wifi]):
- - -
https://www.allgrowers.com/t/grobo-completely-cut-off-urgent/8104/7?u=silvergrobo
(Could You Take A ScreenShot Of Your Light Schedule):?

--

---
I have a recording studio in my basement and keep both grobos in the padded vocal booth which is about 8'×12'… both of the rear of the units are about 4 to 6 inches away from the 2 inch thick sound dampening material. I keep a dehumidifier in the control room set at about 50 and keep the door to the vocal booth open about a foot or so It keeps humidity down in both rooms and temps inside the units about 72 to 78 depending if i have the air on or if is cold outside. This has seemed to keep both the units and the plants very happy so far.