You get those bend/braces from Etsy? I came across them a little while back, interesting concept.
She really flowered up quickly, not much stretch. Good genetics, you think the training held her short?
I do! Lol I feel like I was to Hanzi with her trying to do to much when I should've just kicked back and let her do her thing but it's all good. Do you think she is ready to switch to flower? Or just let her run her course in transition?
No experience with Autos. I would let her ride.
(

#ForAutoInformation

): ((

#NotAnAutoGrow

)):
---
- - -
((

#SheIsLookingVeryHappy

)):
--
---
day 62! Well 72 counting germination! So I'm noticing quite a few 3 fingers… maybe from me being to hanzi with her In Veg! Also my humidity is a little up during flower, 54%rn but you know what you gonna do? It's Cali!
you'll need to add flowering time in
Hey all you special auto growers out there.
Defoliation? Could I? Should I? Should have already done so? All your advice is highly appreciated!!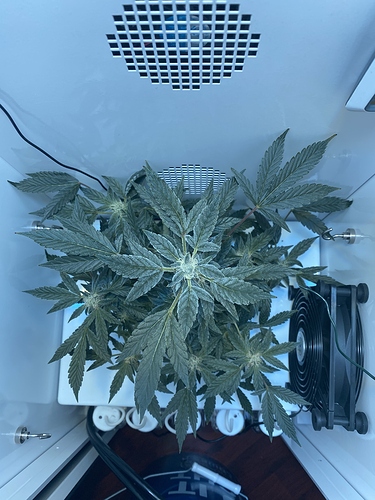 Anybody!?
Looking at your plant. There is no reason to take off leaves at this point. unless your Humidty. Just take off dead leaves as they come.
Koooo
That she is! Frosty as hell too.
Looks great! Most autos seemed to stretch to the lights in the grobo. Im curious how much of it is genetics vs your training process. My 1st grow was an auto and it took forever to flower and it just kept stretching. Im thinking of growing that again next now that i have a lot more knowledge and a little bit of experience.
She was stunned by my hands but it's all good! You live and you learn.
Beautiful plant! Short but sweet for certain
You harvest yet?
Had to cut her early. I think I was in 3.5 weeks of flower…maybe. But ended up moving and she wouldn't be able to handle the move, so I gave her to the homie to see if he could do anything with here frosty ass! Just got the grobo up and running again last night! Same thing, forum stomper by mephisto.
Ah, I see! Hopefully there's some use for the cannabinoids that were present
Well, good luck with the next one… we'll be watchin!