!
!..
Yeah man! I'd even remove the bottom 1/3-2/3 of little buds they won't produce much and will help you make some FAT buds. Few suggestions:
Remove bottom 1/3-2/3 of foliage and bud sites to promote top bud growth

Remove weaker lower branches until you have 5-8 main branches left that will produce the biggest buds. If there are too many lower branches/tops, the buds will not generate enough energy across the plant to dense up, and your buds will be fluffy.
Those stems are thick as heck so you'll be good, I just thought these might help you out.
A1 genetics my friend
I completely agree with this, depending on where she's at in the grow.
YES!! @haze Good Job!!
Give It A Sec Before You Start Cutting Her Up So She Doesn't Over Stretch…
She Gon Have The FAT NUGS!!!
Yessss
Every time I remove a bunch of fan leaves and feel that this was the time I took off too much, the thing explodes in growth overnight.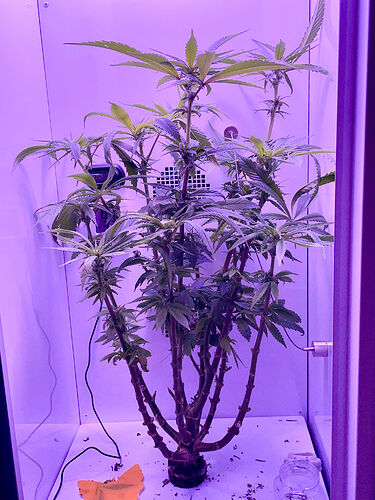 Maybe her Jamaican mother imparted some of this toughness and resilience.
She
is
killing
it
Great work on the defoliation. Now leave her alone for 4-5weeks and she'll get bulked up!
Very conflicted about this: pistils are changing color but this definitely doesn't feel anywhere near ready to me. Any advice?
Touching the buds causes the hairs to turn so keep that in mind
She's got a week or 2 to go I'd say