day 25 of flower
impressive grow, I managed to get 5 decent colas, the ones close to the door being a bit small at the moment, but I'm optimistic wrt the final yield!
I will definitely keep 5-6 main branches next time, 8 was a bit cramped…
Love to see people agree
Experience / Hindsight! Good job @Arn
thanks both
as the bud are stacking, I'm starting to see a few fan leaves from the biggest branch getting spotted with orange/yellow/rusty dot, as well as the tips turning brown/black.
Is this anything to be concerned about during flower?
just did a ph check to be sure, but the probe was still calibrated.
Day 35/56 of flower, a few pistils started turning red-ish, fan leaves are really getting cannibalised, and the flower are more frosty than ever !
Pistils turning, let's get the macro lens out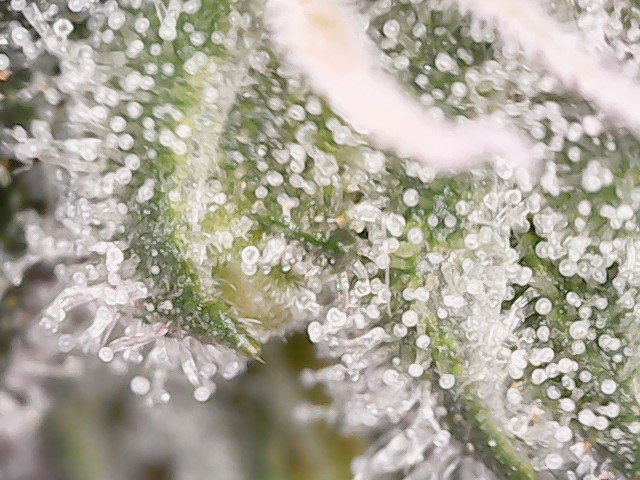 Looking great…gonna be tastey
I can smell it now. Cheers!
Hey Arn thanks what magnifier are you using? I had bought the one from grobo and it's not up to par.
THANKS
it's not a magnifier, but rather a "microscope" camera from amazon, it was £15 at the time, bit it's just a glorified camera module with a magnifying lens at the end.
someone mentioned it a few months ago : the main goal to get a decent picture is to get it stable enough, so either replace the mount with a magnetic hook and attach it to the side, or be like me, after years of painting figurines and mignatures, you get use to staying still

as with growing, practice take times, but you should be able to get decent shot of trichomes with those inexpensive camera.
Oh and remember, the more trich you see, the more you'll be able to count to gage ripeness, so make sure you get the middle of the frame in focus to get the most out of each shot
Thanks so much. I'm looking now.
Looks like nute burn. Are you adding anything?
I would consider a drain n Fill now. Water only.
Thanks I'll change the water
today.
I only used hydro guard.
day 100, 16 days of flower left, got about a third of the pistils brown, I'm pretty sure the recipe is going to be on point.
A bit more fox tailing that I'd like, but considering the strain and the distance buds are from the light, that was expected, I'm glad things aren't getting burnt for now.
would most definitely send the next one to transition a bit earlier next time.