@Azuri bro shes 46 of 46 flowering. I dont feel shes fat enough for flush?

I already added a week but I thought this phase for some reason happened faster last time.
Thanks @chris_barfield I was gonna a tag you next but knew azuri was watching the grow
I agree as well. Another couple few weeks from what I see
So for those seeking honest feedback
No fan is running in my office anymore as room temps are ok

Definitely getting smelly. I have jury rigged suction cups on the side that hold the branches open to let light in lower without burning the tops
Even branches I cut off grew back lol
Other unit catching up. The room defidefinitely smells but isnt carried out of the room which is about 200 sq feet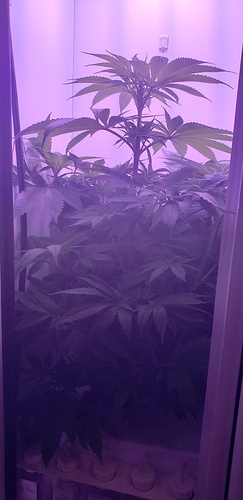 Hey @ToddYYC
I know you're not concerned with the smell, but others might want to give this a try to minimize the cannabis smell. Take a ziplock sandwich bag and fill it with an "1/8th or two fingers" of whatever coffee you've got in the pantry. Punch a bunch of holes in the as well as not zipping it up completely. Tie it up in the grobo somewhere or tent and instead of cannabis smell you'll get more of a coffee aroma.
Cool. Good idea. Yeah I own my home so no one to bitch about it but my wife and I and we love the smell lol so not an issue but i know people are in apartments dont have that luxury.
I love the cannabis smell!! When I come home and open the door…yummm! But that's the grobo. Not my soil grow!! I only get that yummmmmm when I open the tent…glad I'm high
Day 11/14 of transition and day 54 if 60 in flower
@chris_barfield @Azuri
Why are these new stems growing out of the top of the plant during flowering stage. Weird.

I can't really tell from the pics but your lights haven't gone back to veg schedule have they ? This happens in reveg but that also takes a month or more … but it looks like a weird mutation … are they producing buds?
Sup @ToddYYC
Very difficult to tell from a photo as Chris said. Maybe Stephen might recognize this issue better then we can?
It honestly just looks like it wants to keep growing. They are new stems out of the top and are showing female pistons. It's on the branch that initially got burnt on the light
Maybe stress?
I would agree the stress from the heat and being too close is probably what induced it
@Stephen
Just got an email to do weekly drain and fill on sensations. But I do that on Saturday. Today was just a fill to top up. I assume sensors maybe dirty?
If you've extended your schedule or shifted it, the notifications will become off. I think they are generic and don't go by sensors. I stopped getting notifications last week, since I had to extend 3 weeks past recipe end date.
I've had no issues extending each grow every cycle with notifications and for 5he fact it came in mid week would make me think problem over wrong notification