Your buds are well stacked. Nice!
OMG, that cracked me up
@ToddYYC @pyromancy @Fluffhead @Bplatinum9 @pha720 @Angiebaby
Quick update. The microscope is coming in later today but I did take a peak and snapped some pics with my phone. She is starting to look a lot more ripe or it could just be the light. The 3rd/last pic is of the top of the large cola that is at the back left in the original post pic. Looking less green but I still see quite a few long white hairs that are just popping up.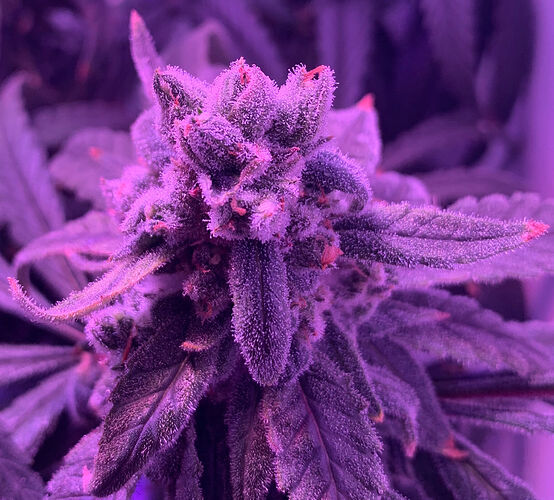 "Cut a small piece of bud off. Put it on your desk and look at it. Up close is a forest of tiny white mushroom tops where they start clear when young and as mature go milky white and then orange. Just like old people. Easy to remember."
Hey, man! That's culturally biased! I started off brown, lightened up as I grew to hate the sun, and now I'm turning bronze because I'm so buff and it makes my muscular definition POP. Get it right next time.
@El_Lobo Lol read your reply a few times and still have no idea what it means.
@ToddYYC @pyromancy @Fluffhead @Bplatinum9 @pha720 @Angiebaby @El_Lobo
Microscope just got here. Still learning how to use it but here are a few initial pics of a tiny piece I pinched off my girl. The long snake looking thing is most likely my huskie's hair.
Looking like just starting to get cloudy. Feel like it could be 10 more days if youre aiming for a 50/50 or 60/40 split. Post photos on Friday or Saturday again, no need to cut anymore off for at least a week.

Nice looking buds, definitely don't want to trim early.
Good job. Be patient.
First of all, I would say nice job on using your microscope for the first time! I think we're pretty well able to see that you do have some ripe pistils and some new unripe pistils and quite a few clear trichome heads and a few cloudy ones, though those are a bit harder to see for me. Personally, I didn't notice any amber but I'm curious to see if my diagnosis is in the ballpark according to what more experienced people have to say!
@ToddYYC Thanks. Thing is if you remember I am now in flush day…6/10 as of today. Guess I'll just let her do her thing for 4 more days. Harvest and curing is next I guess. Stopped getting weekly notifications about what is next a few weeks ago and the recipe I used is no longer in the catalog.
@Angiebaby They are mostly clear or cloudy with a few darker ones. This microscope is so sensitive (cheap) that its hard to really capturing it but when I looked through the screen thats what I say before taking the semi blurry photos.
You can leave her in flush as long as you want. Its just water. She will start to eat her leaves as she matures. Ive had some in flush 20 plus days cause of early swap in. They do a ok
@ToddYYC So if I understand you correctly you are saying that I can leave her in flush for another 10 days after the current flush cycle is done? Currently day 6 out of 10. Do I just go to maintenance tab and restart the flush when she is 10/10 days of the first flush cycle. Not sure how that works.
Looking good. Just go to maintenance tab then shift schedule and extend the flush if it's not ripen to your liking yet. Looking good.
@dasickle
Yep. Just shift schedule for some extra time for her to ripen up. Ask her if she's thirsty every other day and check em out with the microscope
you'll get more comfortable as you watch them progress
Good work!
Dont cut anymore off, just examine while it's attached
@Fluffhead @pha720 Thanks. Just extended so now I am in day 6 of 17. I'll keep an eye on her every few days. Hard to take a good look at the trichomes without taking a bit of the plan. Gonna have to figure that out. Maybe clip the microscope to something so I dont have to hold it in my hand while inside Grobo. Otherwise pics come out very fussy.
Add a week in flush. Under schedule. Add a week to current period. The plany just canablizes itself for food when you take it away. Thus it cleans chemicals out of itself. Add in the extra time and wait
@ToddYYC Done. I am now 6/17 days in flush according to the app.
Awesome. Post pics on 15 of 17 ok?
@ToddYYC Will do. Just ordered a nice goose mount with a clip and grip attachment so hopefully I'll be able to take some pics with the microscope without cutting into the plant.
The leaves will start to yellow and look like dying as it progresses. Likely closer to 14 or 15 days. Thats ok. As your harvesting it its all glory now.