Never mind, found my answer elsewhere.
What did you learn? I'm curious.
So far so good. Got my EC and PH under control, buds are really starting to form and the plant on the right is developing trichs. This is my favorite time with this plant, looking forward to the smell next!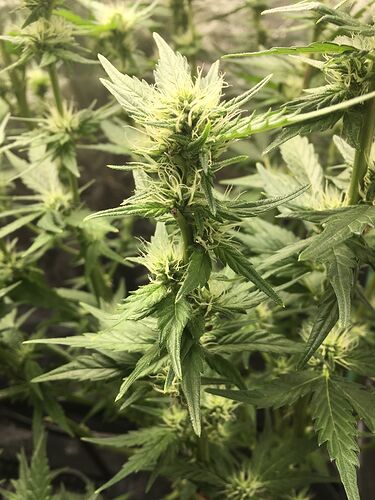 Trimmed up nice
Starting week 4 of flower. Did one more trim of the fans and that was it. I also added my other grow light which in bloom mode is mostly red. Wish I would've remembered I had it when I started flower
. It's not the ideal setup but we'll see what happens.

I think your going to have some Fire in there… haha
Looks great… Excited to see how it turns out
Thanks @Mpower11, still learning as I go but every grow provides more knowledge of how to grow the best stuff!
You getting there forsure… Your past the hardest part of growing most people are to scared to Trim hard… I see you have that part covered
Yeah, learned that from the last grow. Plus watching others in tents and seeing how bare they are in flowering, I ain't scared anymore
One thing i'm learning through this flower growth is that I need to cut down on my colas. I have way too many. The beefiest branches are stacking well however the smaller ones aren't really stacking. I think my next go around i'll make sure there are only 8-10 which should help with the stacking. It's odd that they barely smell…or maybe i'm just used to it by now
You are 100% correct the best grow to date I only left 5 colas per branch…
I tried a experiment with my current grow… I didn't top the plants and I left a lot of colas thinking since I didn't top maybe the plants can handle more… Today I'm starting week 4 hoping they start to bulk up soon… But they are sticky and smell great already. Just still pretty small the jury is still out on this one
These flower types with the heavy leaf density always seem to bulk up in week 4-6 and on. Looking pretty
You could cheat too and let them veg for 3 mos until their hormones are making them ready to explode in flower. All branches will be beefy then!
Looks really good @FireGuy
I always leave 1 or 2 large fan leaves at the bottom of the branches, it is proven to speed up nutrient delivery from the roots to the upper branches.
Was just reading the other day that fans are what help produce trichs so it's not great to cut them all off in flower🤦‍♂️
I say your still good you have lots of fan leafs still on your plant based on the last picture
I think I really hit the right mix in mine as the colours were something. I should have waited a week after that heavy defoliation AND THEN flipped to flower, rather then do it in the middle, however I was noticing moisture buildup on the leaves enough to make my hands wet when running them through. So needless to say i created more air space, which is funny that one ultimately got wind burn.
Yours seem to have great airflow space for the most part. My question would be, are you willing to test next grow, trim bud sites off until only top 4 nodes or something and then maybe have a plant like your right tall one, where you've got like 8 or 9 nodes of buds, see which does better.
Yeah, I was gonna try 4-5 nodes and everything below is gone on my next grow, plus less offshoots of each branch. Also really want to get CO2 introduced!