@OrionsCeiling I can apparently grow minis or megas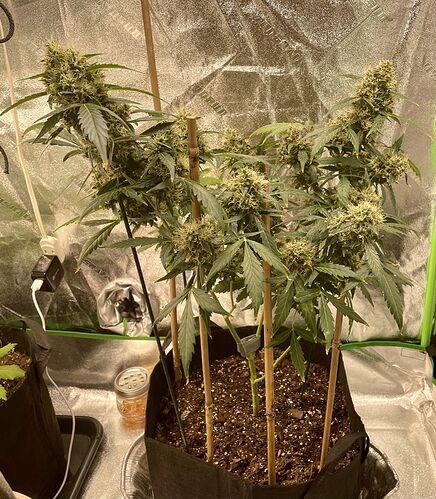 That sucks
. Out of your control though.
After this grow finishes, I'm moving Grobo to another room with more ventilation. I wanted a cabinet
to hold my goods. So I had this made. Same height as Grobo, double wide.
More to come!
Timber! Harvest of Northern Lights tent grow.
@OrionsCeiling
Dang!! thats what we're talkin' about!!!
super excited for you, can't wait to see it all dried and cured
Nice 2 node swaz harvest! I thought she would have stretched more but I guess the outages didn't help you much either. But looks amazingy dense and juicy!
Congrats!

Thanks @Vicc - we are happy we pulled through as well as we did. There's been a lot of loss in agriculture here, so I'm by no means complaining! I am also very excited to try a transplant from the start, and the Grobo being in a new, more spacious room.
Im also very grateful in the knowledge I've gained. Also been a general good community to hang with during the pandemic. Overall, I couldn't be happier I decided to purchase Grobo.
Nice! Congrats? Big bud there.
I love the bathroom setup. Little Fluffhead is a looker
awesome aesthetic in grobo
haha…four-legged children is another factor I have to weigh into my growing efforts
I like the setup looking good
Last water change
got some friends. Thanks growmie @OrionsCeiling
Protectors of the garden

Fluffhead is a full grown lady now!