Looks Great!! Congratulations

Wow
I attached link. I will have to provide review once I use it. It is suppose to dry, cure, and store.
Yes please Id love to know more about that. My first question would be… Do you have to fill it all at once and once its in a mode is it a process that you can add more along the way and it will all cure, or load it up and wait for that batch to finish?
I wish I had extra money but $1,500 for a curing cabinet? I know it does a lot with temp and humidity control but that's pricey considering it's size. It's meant for "small harvests" but most people who would invest in something like this is most likely looking to do larger harvests which leads to multiple units, a lot of lost space considering it is only used for a few weeks. For the other 95% of the time it is just taking up space. They try to convince you it can be used for storage but personally I don't see myself getting up and running to the cabinet every time I want to smoke, that would last a week maybe. Plus storage is cheap and easy now with the help of Boveda.
Now don't get me wrong, very cool gadget but I'm limited on space and funds so will have to stay old school unfortunately.
Doug keep us posted I like the idea of it for sure. Tag me if you post a review on it
If I wasn't so happy with my auto burping jar setup I may have pulled the trigger on this.
I am chopping down 3 tommorrow and will be putting it to use very soon! I will keep u updated along the way!
If Possible could I see some picture of the back of that unit? And any pics
I will shoot a few more photos shortly.
Man plz let us know how that works that right there can be a game changer
Drying phase completed. Was 2.2 lbs wet. It is now in cure phase. No hiccups so far. Automation is phenomenal. Don't have to worry about burping or anything. I will keep you guys updated as the process continue to progress.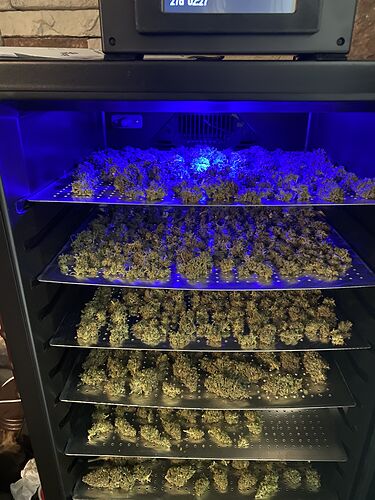 @Mpower11
@Choppo0816
@buzzy6
@vegetato
@Todd.grobo
@FireGuy
@Vicc
My my my my…
…
((

#Harvesting

)): (

#Congratulations

):

--

---
~ ~ ~ ~ ~ ~ ~ ~ ~ ~ ~ ~ ~ ~ ~ ~ ~ ~ ~ ~ ~ ~ ~ ~ ~ ~ ~ ~ ~ ~ ~ ~ ~ ~ ~ ~ ~ ~ ~ ~ ~ ~ ~ ~ ~ ~ ~ ~ ~ ~ ~ ~ ~
What contraption is this that I may have to add to my collection?
So what are your thoughts on the machine so far?
Cannatrol. Automated dry/cure/storage machine
So far it has been great. When drying it is actually pretty cool cause u can take trays out daily to see actual water loss/weight of product if u want. It is currently curing with no maintainence required. No burping required. As it progresses and finishes up I will definitely keep u guys updated.