It's me
!!
Spitting image of the main character in Resident Alien
Lol U were right m8

Feel likehim sometimes tho
.
Think I may have a hight issue coming up
!..
Might have left LST a little late
message to self

Looks like my babies are well on there

Still getting the odd brown marks but still on older leaves & Snip
!
Filter Mod is easily coping atm…& so it should
!!

But time will tell
!
!
I would wait for a while before you go in to clear the majority of the remaining fan leaves for final bud development but supercropping would really help you. I would be rolling those stems lightly between my fingers to slightly break down the cell wall allowing you to bend them down and then secure with pipe cleaners or whatever green wire you got there. You don't want the buds closer than 6 inches from the light if possible. I guess 6 to 12 inches from light is the sweet spot according to Stephen.
!
Already done once bud
but was looking too do more tomorrow so thanks
!
Been Styling …
Always looks like I've over done it
then the nxt day its as if I hadn't touched her
!!!..
Amazes me
!
I hope I haven't
!
!..
Just done a water change & a tiny trim
Just hope my crease
!! doesn't cause that node to die off
!..
Still happy wiv things atm though
!
!
!
!
!
!
!..
They can take a beating, bet she will be fine.
!
I'm surprised I've had No comment on the Cancard"
!
Just done water change & a light trim allowing light to my little babies
Not sure what exactly I'm looking for but I think she's looking good atm with decent colas forming

!
!
!..
Been a Loooong trip
!
!
But ALL
!
!
Those are some of the thickest white hairs I have ever seen.
Really
!
! & what does that mean bud
??..
No clue
!
!
!..
!
Water top up & light trim
Leaves are VERY sticky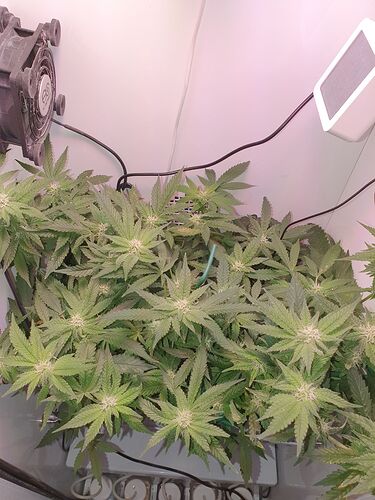 Think she's gonna need 1-2 wks Flowering Retards though
??