!
!
!..
!
Water top up & light trim
Leaves are VERY sticky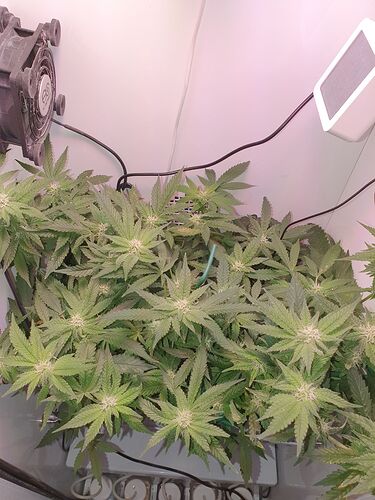 Think she's gonna need 1-2 wks Flowering Retards though
??
At this point the trichomes set the timing. You need a jewelers loop or microscope to see the trichomes cycle from clear to cloudy to amber. Once you have around 30% amber, kick Grobo to flush. I use the "flowering schedule" as a rule of thumb but it by no way controls how long I will keep the plant in flower.

All on standby bud
& she's been slow from start so expected
But worth the wait I hope
Takes some practice
!! But this is Awesome:
I've just received my grobo order & the Coco Pods are Smaller
!
Is this the new norm
??
Makes perfect sense if so
Anything to try & avoid the dreaded Dropsy
!!
Old: Left
New: Right
This takes a steady hand
!
Something I ain't got anymore
!..Oh & Practice
!!!..
But you get the gest
!
Clear as a bell atm & thats only the leaves
!
!
!
Looking like half clear half cloudy, on their way!
I have to have someone else take tricomes pics because I shake
Tell me about it
!
!
!
!
!
Bud bulking starts 4 week of flower
!
I've already pushed her back 2 wks in Late Veg so I'm expecting the same
Btw bud…
Is it normal for Nute Burn to appear as I seem to see alot of it in the forum at this stage on
??
& no one seems that bothered
!!
It looks like you'll hit week 4 flower tommorrow. Photos usually bulk up week 4-6. .
Cant shift this smile on my face
…
At Last
!
!
Every grow is a learning experience. Next time if u are growing a photoperiod, u can trim on day 21 flower. That gives the plant a week to recover before bulking. This is usually the last trim I provide. @Gmann
Still mainly clear & still bulking
Think she'll still need at least 1wk Retard but tets will tell
!
!
!
Not sure if I should be concerned but I'm Still getting what looks like Nute Burn on my leaves admittedly some look old but not all
!
Just done a Calibration & Probes were off but I did this before & its still there
!
!
Or am I worried over nothin & it Is just a little Nute Burn & if possible some reason for Nute Burn would be interesting
??
Hi all
Getting close to the end of the programmed flower stage & am I right in thinking she needs at least a 1 wk extension
??..

Just looks obvious more growth is needed both in hight & bulk
!
!
!