How much did you pay for the seedjunky seeds? I've been trying to get a hold of some but always sold out smh… what bank did you use
And I know that seed is gunna be fire … I think the cookie family has teamed with seedjunky to make their strains as well… man once this gets going is gladly pay for a clone of this
https://neptuneseedbank.com/product-category/breeders/seed-junky/
I got all my Seed Junky seeds there! Yeah they teamed up to make London Pound Cake 75 x Kush Mints 11 seeds… I tried the strain from Cookies in LA. (I live in Los Angeles) beautiful flower, but I didn't like the taste very much, so I didn't buy the seeds. I like Biscotti better, or Gelatti.
I took pictures…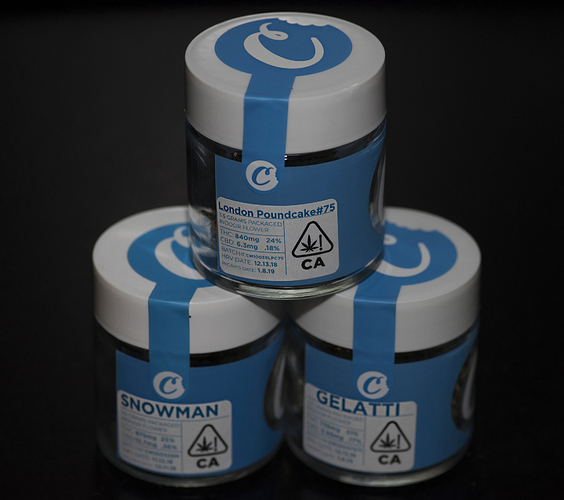 Nice I couldn't find shit when I was in la but then again I was a bunch of idiots lol
Yea I rock with Neptune they got good shit
They always have great stuff and amazing freebies!
Nice that they actually have a downloaded app as well
I'll be in LA next week. I'll check out their shop!
Bro. Thanks for the recommendations. I will most definitely check and look into those strains. Do they sell seeds? I'll receive my Grobo soon. Maybe after a couple grows, I'll grow a top notch strain.
((#ItIsAlive)):
Candy Rain: PoundCake X Gelato
https://www.allgrowers.com/search?q=Candy%20Rain%3A%20PoundCake%20X%20Gelato
https://www.allgrowers.com/search?q=Candy%20Rain%20user%3Acookiegrower
I dunno if he's that far from ahead of in-house capukator abd riot seeds … I'm dieing to get my hands on some junky seeds every time he drops I'm either at work or too late to site. To be real though I'm disappointed he got down with cookies not cuz cookies is bad in anyway … I been wanting to get some of their genetics too … but my thing is this … the cannabis community doesn't need one company putting all the heat it's need competition to encourage all the companies to step their game and keep genetics progressing
Did you see the Mack x slurricane seven they are testing ? Saw an Instagram post from the lab shit was close to 35 percent thc …
Wow!
35%
Yeah, we do have the same taste for amazing bud!

That's cool. I'm looking at the HLG Elite 360, to start my tent soon. That London Poundcake 75 x Kush Mints 11 is probably way better than the London Poundcake 75 alone. Anything with seed Junky is bomb lol So far I have 4 packs of Seed Junky seeds… only one is Kush Mints 11 though. I've been waiting for Seed Junky's Georgia Pie seeds! I tried Gelatii alone, by Cookie…and I loved it! I can't wait to follow more of your grows!
I remember when Greenthumb only had a delivery, around Santa Ana back in 2013 I think lol
I want to try Cereal Milk someday, sounds bomb!