Many thanks, @Todd.grobo! Trying to be rational, but definitely watching it like a hawk!
Leaves like that come and go during every grow. From day 1 to the end. Its all good. Just remove once its 50% wilted or more
Day 18, and it's starting to really come on! Bit of curling on the first leaves. New growth seems solid. A little concerned about the purple stems and at the centre of the new growth, but all new growth has started that way and greened as it grew. Temperatures have been right on and humidity improved as well. Fingers crossed!
Day 22 and growth is really starting to kick in. First leaves appear to be wilting, and a few tiny spots on the next set, but the new growth seems good. I lifted the pod yesterday in an abundance of caution to ensure against dampening. She's a bit droopy today, but growth seems to be strong overall.
Day 25. Slow and steady. Some spots on the 2nd set of leaves, but new growth looking good and healthy.
Day 31. Looking stronger by the day. Considering some LST, but wary of injuring her, and I know Autos generally want to be left alone. But there is growth underneath the canopy longing for some light!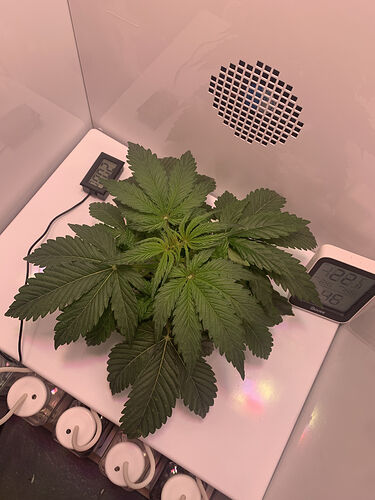 Day 38 and looking very good indeed. My only significant worry is that the humidity is rising considerably. Probably not a surprise considering the growth, but I'm up in the mid-50s and that's likely to rise further as the plant grows more (right)? I bought an Infinity AC fan but haven't put it in yet. Might that do the trick?

Ranges for humidity by stage
Yes, so I'm OK at the moment, but I'm worried that as I go into flowering it's more likely to go up than down as it gets leafier. So I've put in the fan an hour or so ago, and while I'm hesitant to trim the auto, I think a little less foliage might help as well, so I may lose a few lower leaves and hope that helps.
Fans wont help heat or humidity. They just blow it around. Unlesz your pumping your air out or into the room. Maybe pickup a de humidifer.
Fan in, bigger fan leaves out. There was an immediate drop of nearly 10% RH, but we'll see how it takes. Hope I didn't stunt her, but I was pretty careful.
Well, if the pruning hurt her, she's not showing it. And the RH has come down 10% to the mid-40s. Looking good for now!
Things are still looking good, but the RH change is not all I cracked it up to be. Here's my question: a hygrometer at the bottom of the grobo, under the canopy, registers around 55% humidity, while the one 3/4 of the say up the grobo, well above the plant, registers 40% (I reversed the two instruments to check that the issue was placement, not instrument fault)–which one of these is more 'accurate'? As I get into flower (as is starting to happen), should I be worried about the 55, or feel comfortable with the 40? Thanks!
…
…
(If You Can Get The Room [Where The Unit Space Is Right, With A Dehumidifier Outside] Right, -Then- The Unit Should Follow Suite): (It's A Mix Of Fluxes With Temperature Of The Light, -And- Confined Space): (It's Hard To Get That Happy Medium):
…
- - - [2021-06.17]:
…
(#YourGrowYourCall):

(You Could Always Extend Flush As Well):
- - - [2021-06.22]:
…
…
…
…
From: ((#ItIsAlive)): (Congratulations): ()

To: (#ILoveThisFlower):

To: ((

#Harvesting

)): (

#Congratulations

):
--

---
~ ~ ~ ~ ~ ~ ~ ~ ~ ~ ~ ~ ~ ~ ~ ~ ~ ~ ~ ~ ~ ~ ~ ~ ~ ~ ~ ~ ~ ~ ~ ~ ~ ~ ~ ~ ~ ~ ~ ~ ~ ~ ~ ~ ~ ~ ~ ~ ~ ~ ~ ~ ~
Thanks @SilverGrobo . Outside the box and the one above the plant both read 40, so I'm going to assume that's OK. Will be watching closely though!
Going through the big stretch and shooting upwards. Looking really good now. Considering taking more fan leaves off, but hesitant to mess with what is now consistent and impressive growth. Any thoughts?
Clean her up a bit. Nothing major but open up bud sites to light
Thanks @Todd.grobo. Can I take the ones I've circled below, even though their stems are right up against a bud site?
Getting there now. All looking nice and healthy, stretching is over (i think), and the bud sites are starting to fill out nicely!
I got a dehumidifier and am trying to keep my RH at 35-45%.