That's the plan
!
I'll use my wires as tie-off
Just attempted my First Nerve Wreaking
!! Stem Bend & Hopefully I've done it correctly
??
Maybe better if I use ties down to my scrog
…
You did alright. You should see a knot form where the bend is. Next time predict your bends and moves ahead of time so you can execute the bend over some time so you don't shock her so much.
Be more like a wall that she grows into and then adjust to instead of piece of wood falling on a branch and forcing a bend… She will recover faster which means more growing time.
Understood
!
!
1: Start using Scrog Later
2: Place Scrog higher leaving more room below
3: Tie off LST wider to avoid bunching in the middle
4: & Try harder to keep/trim canopy level across scrog

!
!
!
Starting to hit the apex more often though me finks
…
!
I hope i haven't over done this
!
!..
She's looking ok just the Brusing from the bend last night
??
Hopefully just a war wound & she'll bounce back
!
!
Flowering up well

Little clearing & on we go
Think I'll bend that tall branch @ the back later
!
!
But be a little more gentle
!
!
!
Happy Days
!
!
Day 13:
Hello baby
!!!
Shame about the Interference
!!
Well Chuffed
Hi
I've just read that the Water Top ups are Not Sensor Driven but are just timed notification
!!
Is this true
So water is Guess Work
??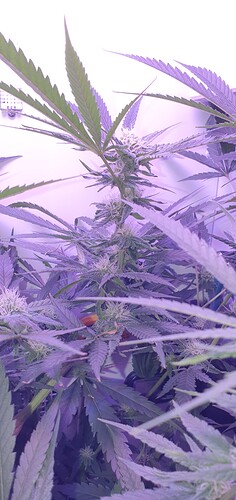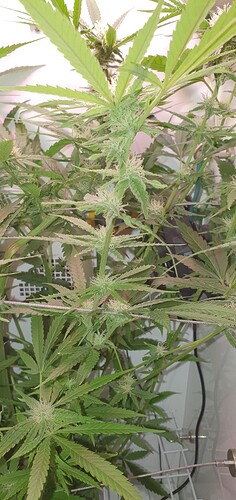 1 question though
??
Do I remove any side tiny flowers that are growing on the main branches leading to her large colas
??
Sounds about right but just checkin
…
Only if you think it's never going to amount to anything get rid of it. But with a growbo not sure but it's just automated so I would get rid of my small branches at the bottom and if you can't get it to open up and look down inside I would get rid of that crap too. Pull the stuff you don't need off the bottom and huge leaves blocking light to a top that's trying to get light.
You can also move your branches over and tie them down in the light.
The small stuff might stack the whole Branch if there's light on them
Nice 1 bud
More common sense
!!
I am Jealous man. Keep doing what your doing. It all looks great.
Much appreciated bud