Happy Days
!
!
Day 13:
Hello baby
!!!
Shame about the Interference
!!
Well Chuffed
Hi
I've just read that the Water Top ups are Not Sensor Driven but are just timed notification
!!
Is this true
So water is Guess Work
??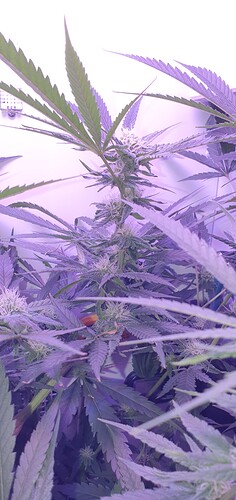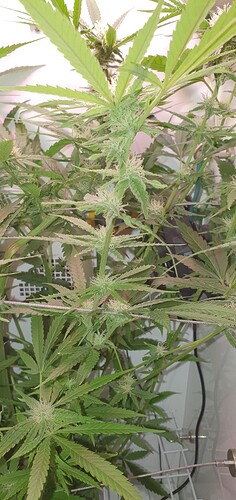 1 question though
??
Do I remove any side tiny flowers that are growing on the main branches leading to her large colas
??
Sounds about right but just checkin
…
Only if you think it's never going to amount to anything get rid of it. But with a growbo not sure but it's just automated so I would get rid of my small branches at the bottom and if you can't get it to open up and look down inside I would get rid of that crap too. Pull the stuff you don't need off the bottom and huge leaves blocking light to a top that's trying to get light.
You can also move your branches over and tie them down in the light.
The small stuff might stack the whole Branch if there's light on them
Nice 1 bud
More common sense
!!
I am Jealous man. Keep doing what your doing. It all looks great.
Much appreciated bud
!
Just a short Pic Update
Stacking well I think & just starting to frost up​:+1:
I must say with one thing or another my first 3 grows were a nightmare
!! But this grow hasn't had as much as a blemish & I gave 4 seeds to a m8 using a Tent & He's the same
Nice 1 Seedsman
…
You plant is looking awesome Gmann!
Happy growing I have my first signs of pistol hairs day 29 of my grow! (I am also growing a auto)
Happy growing
I gather Autos are more work (Trim) than my Fems tho
!!..
I'm playing safe for now…
Well tryin too
!
!
!
Is there anyway of finding out the date of my last Drain/Fill & Dosing as it just seems a wile since my last & I've topped up twice (both manual before the grobo top up reminder)
Bet I get the said notification as soon as I send this
!
!
!..
Still nothin
!!
Going to give her another 24hrs 4 Notification & then do a Manual Drain,Fill & Dose
Don't get it
?
?..
Drain and fill notifications are always on the day of the week you started the grow, with a reminder mid-week to do a top up.
I like to start mine on Sundays for that reason, gives me the time to do a quick haircut after the added nut.
also, seeing that you're in flower, I'm not surprised you had to top up twice, I've been topping up every other day since mine has bloomed, they're just drinking a lot.
Now ya askin
!
!
!
Gonna do a Manual Change in 24hrs me finks
…
Check your settings and make sure the tips are turned on. I was told you can pick your own day to do your drain n fills. This would also dictate the top offs (about 3 days later).
Set up your own schedule to change water and fill. Just check it daily.
If you had to leave for some days and you did not want to wait, you can do the change early so the girl does not sit in bad or low water. Just check the block when the notification comes.