Hello Everyone,
I'm Troy, and my grobo should arrive tomorrow. This is my first time growing to completion and growing in a grow box. I've purchased some Jungle Boys seeds (Jungle Pie) and I'm super excited to get started. I'll continue to peruse the boards to find helpful info I need.
Just wanted to introduce myself to the community.
welcome to the forums
dont hesitate to post any time, just make sure to include photos!
Welcome to the feed … and happy growing
Yes it's perfect I've changed the water to Distilled and bottle number 2 stop draining incredible lol
Use only distilled water… I've tried to use ground water and bottle number 2 was draining much faster than all the other bottles…I'm on day 14 of my 1st grow and bottle number 2 stopped Immediately when switched to distilled just a little information
Welcome. You will enjoy it.
Hello,
CRENSHAW HERE! I am very excited about being a part of something special.
I plan on learning everyday by listening to my new FAMILY, Allgrowers!
Welcome to the forum! Happy growing!
Old School mixed with modern times…
Built a scrog today that will eventually help with watering.
By the way …?
I'm Merle and I'm 49 catching up with modern growing. I've almost got it down… But im not conceded… You learn more everyday and that's whats so cool ABOUT growing besides the good fucking nugs you GET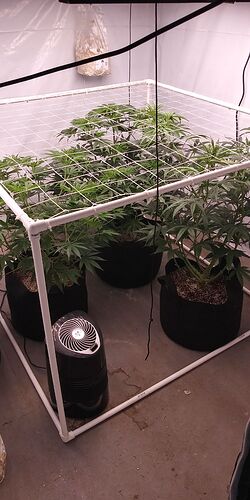 All PVC piping all flowing. When I get my hose and tips to send water from scrog to plant's…
Do you think it will wor with a res. & slow pump. It's med. Is Cocoa
Am I the only one that saves the biggest nugs till last ? Like blue smarties? or red, or w/e colour you liked.
I like to save the biggest nugs for last. I find myself admiring them and taking out the microscope from time to time
I'm feeling the build and the set up
Hello dear all! Hope your good and safe! Enjoying growing your babies in your Grobos! My name is Danilo! Been growing for more than 10 years in different countries and growing mediums.
I bought the Grobo a couple of months ago but just started growing a Bruce Banner x Strawberry Lotus 38 day ago!
Everything seems to be going ok except for I just noticed my pump and fans not working since 5 days ago! But that's for another thread.
Just wanted to say hi and make myself available for the community if you need any help.
Take care
D
Replace the pump asap or your plant will die. In the meantime. Open a ticket at support@grobo.io for a replacement that you can install for permanently fixing it. Welcome to the forums. Do a search on pumps