Always happy to see harvests!
Thanks Todd! Same here. And I'm planting seeds! Just got my 3x3 set up with a Grower's Choice ROI E - 420 and some fans and a humidifier. Running 2 Sister Cookies and 1 Fluffhead Og courtesy of @Fluffhead
Team work make the dream work that's how I feel bout a few people on here as well gd group of people but anyway look
really nice
happy
for u one
thing I noticed is that how ever long it was I cut down that royal
gorilla
I'm still curing it when I tell u she got a crazy
stink now it unreal how she smells u held out to cut her down do the same for the cure
I think you're right. I'm gonna have to hide it
my only wish is that I had more. Next time with the added lights is gonna be a hoot and a holler. And this 3x3 will be unreal!
Can't wait to post more
Can't wait
to see
more but I agree
that is going to be hard
Congrats my man! I am still waiting on technology to figure out smell-a-vision.
I was looking at that light for my 3 x 3 but went with the HLG. Let us know how you like it. I like that it stayed under 120 degrees in the videos, the HLG runs hot, almost 150 degrees. You can touch the board but only for a few seconds. The heat is okay as I will be doing CO2 soon but still doing research.
Looks great! I can't wait to see myself cloned
tent and new light looks awesome. Fans blowing, I'm so excited. Sister cookies
👯‍♀ I have a really good feeling about. Yesterday was a long day!! I got all of coco melon trimmed. Whew. It's probably one of the best smelling plants I've encountered. The chocolate mixed with the floral and fruit
is very pleasant. Cant wait to taste, but still super sticky. Congrats again, and thanks
all for the guidance.
Thanks for your help everyone! @Choppo0816 @Wake @Fluffhead cant wait to see the way that the coco melon looks dried up. That is a favorite strain of one of my friends that lives near me. I can imagine the smell is POTENT!
@Wake Yeah the light is running REALLY cool at the moment 78°. At 25% (100w) I'm able to reach around 500 par right at the pot height so I'm hoping they'll be good. I'll increase by 25% once I see that they're stable and growing and then continue with that process. I'm excited!
Nothing new to post except that my humidifier never turned off and it was raining mist in the tent this morning. Not a bad thing for the seeds though. I'd rather it be too humid than too dry for the time being.
Congrats on your harvest! Awesome!
Happy Sunday!
Heat wave. I hope some of the terps are preserved. AC is turned off in my house.
Definitely gonna be eye opening when I weigh all of this up. Maybe one more day of drying before I trim & jar. Most likely Tuesday afternoon/evening.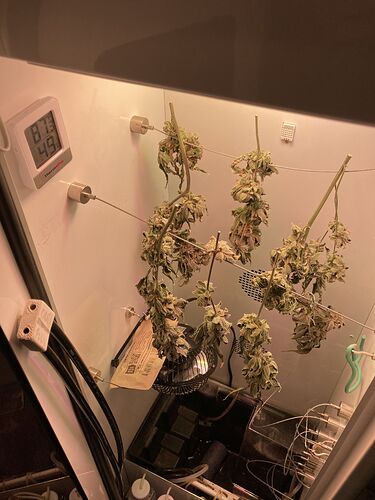 Here she is on Day 4 of dry. Placed the colas in a jar and trimmed them up tonight. Currently sitting around 50% RH. Going to cure for at least a week before testing but this trim is gonna make some KILLER rosin this week. I cannot wait to try it. Gonna be SICK! And this bud is amazingly dense. Super nice smelling and sticky. Absolutely drenched in trichomes and I was able to make about a gram of trimbin hash. I think trim hash is a delicacy saved for the home grower. I tend to keep it to myself and top it on bowls.
I didn't share much from my last tent grow in terms of photographs and the like, but the trim hash was BONKERS. All gone now

(yeah, and it was amazing, but this stuff should be better!)
I can't wait to clean out my unit and get it back and groovin! Looking forward to it. Already have my critical purple auto germinating.
will be using a rapid rooter for the next grow.
Here's some footage of the crop. Beautiful ganja!! Can't wait to try it in a while.
It's just incredible how dense these buds are.
Holy Hydro!
Felt that I should extend one more huge thank you to @SilverGrobo for being so encouraging and helpful though the process! Big thanks to you. And continue to be your best self!
I appreciate all of you for the help. As I type in refilling my Grobo after cleaning for the first time since harvest and I can't wait to get this critical purple off to a good start. I'll be using a rapid rooter instead of a coco pod and I think it should work inside the Grobo slot just fine. I'll keep everyone updated in a new thread.
Smoke and taste test in a few days! Then curing to compare.
Gd luck hope it's everything u expect she was a beauty
Total of 28g dried flowers and most likely an ounce of trim! I didn't weigh the trim but it seems to be about an ounce or slightly less.
Overall pleased! Wishing I had jars upon jars but I am excited about what I have. It still smells slightly grassy but also smells floral and gassy. Can't wait to get a full review on the flower. And possibly hash!
My royal
gorilla
smelt a lil like that but after almost 3 months of curing she smells insane
now with the humidity packs I might open her like 1 every 2weeks let a lil air in there now so just keep taking ur time
Pictures here are sub-par but she is quite frosty. Extremely uplifting and energizing effects. A productive high, red eyes, hungry, somewhat contains traits of a haze, which is what I was hoping for. This pheno has hints of mango and a citrus, dank backing to it. I can't wait to see how the clone I have in my 3x3 does in soil!
Great looking bud @OrionsCeiling Congratulations.
Do you sneak in a bong / pax hit before curing it to test?
How it compare to when you harvested it 2 mos ago?
Hey Todd, thank you! I appreciate your help, and everyone's help on the forum. I truly have learned so much about this plant through this unit and forum and I cannot wait to pursue this further.
Prepare for many more seeds to cure threads from me, I've got plans!
I'm really happy with it so far. I did try more than I wanted (and so did my family) during the process and I'd definitely say the 6-7 week cure so far has changed the flowers' integrity for the better.
The buds were dry for a long time, as the drying period only took 3 days, the buds were too dry heading into the cure. They remained this way for about 4 weeks.
Over the last 3-4 weeks they remained dense, developed a stronger smell and became sticky with a more desirable texture and smell overall after the cure.
The effects were always there through the curing period, but the overall smoke was much fuller and more satisfying through the bong after the cure. So resinous… the smoke burns slowly. White ash, made me cough from a little hit, I was astonished. Absolutely top shelf turnout.
Im glad I waited the extra few days in flush, the inner trichomes were perfectly cloudy, slightly amber but not turned. Just about right for this sativa, in my opinion. Great daytime smoke.