She's certainly a happy plant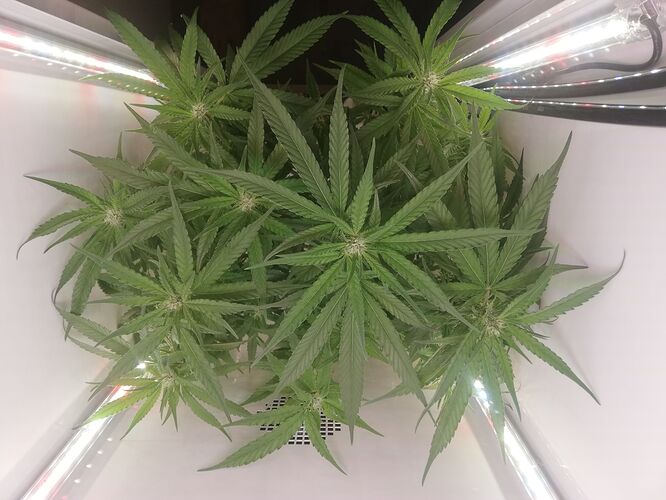 Yes she is no problems. Only the time she needs to get at this stage was hard for me. But first grow ever. Try LST and some other things to see how it works and see what is good or bad. 130 days…
@OrionsCeiling
Yep been trying things. Check out my Gold Leaf grow! Love to see the work you're doing. It's pretty cool to see the LST in the Grobo. But I'm trying to define whether or not it is worth it in the small space vs the time. I think I may stick to lollipopping and Kushman Chiropractic. She grows STRONG!
She's gonna fill that thing out nicely!
@Stephen, @OrionsCeiling hello guys two little question
What light setting shoud my grobo gave at the flower stage… 12/12 is ok but what color… And how much Ppm now I have 3000 and ph 5.65
She has no deficiency symptoms.
At this stage you want everything to fit
Thanks for the help
Yepp a little bit too much to get the little grobo light everywhere…

@OrionsCeiling
12/12 at flower for the light setting.
pH can remain between 5.5-6.1ish depending on the time you check it, but I usually top off my reservoir once during the week instead of waiting for the drain/fill. Just so that the PPMs don't spike, but not everyone on the forum does this.
I know @Bplatinum9 doesn't top up, she would rather let the system do it's thang. I don't check ppm's often so I can't speak on whether it's good for the plant or not, but I've had no problems with it.
Good luck with the rest of the grow! I'll be watching closely
With that said everything looks great!
Hy thank you. Yes I fill up too. Without grobo. Up to 1 liter in 4 days. I took up the challenge.
There will be nice weeks to see how the plant changes. She has looked good from the start.

@OrionsCeiling
Update…
Ph. 5.7-5.8
Watertemp. 19°c with cooling bags
Ppm. 1600
almost there, looking great! Congratulations
Looks great.
She's gonna bulk up again soon. Great grow!
Additional lights going great. Amazing!
Are you growing in a grobo and if you are how do you synchronize the light to Grobo lights
And what kind of lights are they please show your set up