He did take a bunch off the top, back there in the jar, which could have stressed it!

Topping done but not for clone… In the jar I get a bag seed… For a try.
Ok cool! I think we will just have to wait to see what she can do!
We'll see where the journey takes us
Is it possible that the air is sucked in by the air pump is to warm and that my plant grows worse. …
She looks very nice… i was also nervous with my first grow being too small. So i extend late vegde for a week… before i realized it double size during transition and 1st week of flower… from there i was nervous it would get too big… my next grow, i will follow the receipe
@Baumi1981 Yes, it is definitely possible that the air pump is pulling in hot air and increasing the temp of the water.
I noticed this during my first grow and decided I had the unit too close to the wall. Try to have at least 6 inches of space between the unit and any walls.
Lastly, there is a service door panel in the back lower corner of the unit. I remove this so fresh air can enter easier. The air pump is located right next to that service panel so I believe it pulls in cooler air.
Thx she looks good… Lst works. 52 days. Today I Chang the setup to late veg. We will see… Last time about 2 weeks ago… She doesn't like it… Leave tips get rusty… And I change back to early veg.
Hey @Baumi1981,
Sounds like you have been in touch with the support team and have a great grasp on what your plant likes and doesn't at this stage. Good for you! Involved growers always have the best success. With your mix of LST and HST, I'm not at all surprised that you have extended your recipe so much.
Keep opening up that canopy and adding bud sites and you will be rewarded in 2-3 months for sure. Nice work!
Cheers,
Stephen
PS - Try and keep res temps under 70
@ around the same stage myself bud
First strech I've reached
! & already extended 1wk
Looking @ another to second fan & then into Transition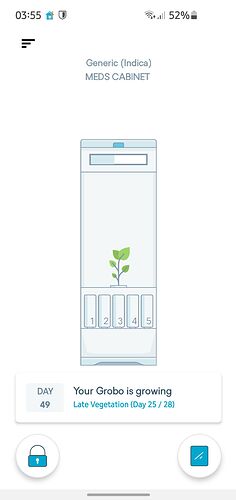 The route is the goal.
Looks great.
We make it…
2geva
Oh yeah
!
Alway worried I over do it though
& each time she just shrugs it off
!
Looking good.
I love to watch how she reacts
Thanks for the feedback