Sorry but yes the brown bud is a loss
These are of Abbi. She is growing some DENSE buds now. Absolutely in love with this plant.
Ilana is still lagging behind but that's not going to change at this point. Just planning to keep her going an extra week or two , perhaps, if need be.
Damn!! Looking like some tasty buds fattenin up there!
I'm so glad you're getting closer to the end, it's been fun following your grows, and you have such a positive mindset here on the forums it's good to see!
That plant is bout to go all BROAD CITY on you soon! Hopefully Ilana follows suit
These are of my baby girl Ilana. She is growing so well. I messed up both of the girls' water this week as I've been out of town as well as having family in town. They both got fresh water a day late and no extra water during the week. Making matters worse Ilana had an empty or #4 bottle. I refilled hers today. Leaves were dry and browning a bit. I'm disappointed in myself for. It being more careful. Next time I'll plan ahead of time more carefully.
And here is the current showstopper. Abbi!!!
She is THICK in the buds! Very dense and feeling nice. Also browni leaves and embarrassingly, out of all bottles #3-5!!! Even more brown than Ilana. I'll make sure to give these girls lots of water this week. All the bottles are at least half full now. Please forgive me, girls. Please!!!
She's purtyyyy. How many days in flower til now? Those hairs are turning orange!
Those sugar leaves look delicious🤩
Sorry I didn't answer your question. I'm at 48 days into flower. When you asked I was 43. These pictures are actually 1 day old, so 47.
Spot frickin on brother! Hope she finishes out nicely. Your following grow is going to be bonkers, you'll know just what to do!
Ha. Thanks for the kind words. I definitely had some mess ups along the way.
I already have next generation on the way. Had two seeds sprout yesterday.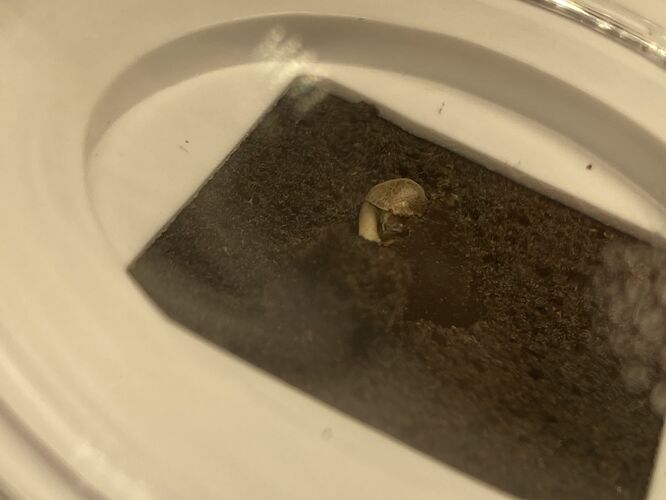 Question:
How much does the flush cycle continue to make the trichomes turn milky?
My friend lent me a stereo microscope that cost him a pretty penny. I can see very detailed. Looks like about 75% milky, 25% transparent. basically no amber.
My lesser matured one is closer to like 33% milky.
I started the flush cycle on the more mature "Abbi". Was that a mistake? What % milky should I start the flush cycle? Thanks in advance for any help.
Hey man! Abbi should be alright in flush for 2-3wks. She'll amber up. I'd actually let Lana go for a few extra weeks just to test out the "done-ness" you can achieve. Keep us updated I'd really like to see results from an experiment like this
Holyyyy crap can I please see something under that microscope for funsies
For Funsies