Yessss
Every time I remove a bunch of fan leaves and feel that this was the time I took off too much, the thing explodes in growth overnight.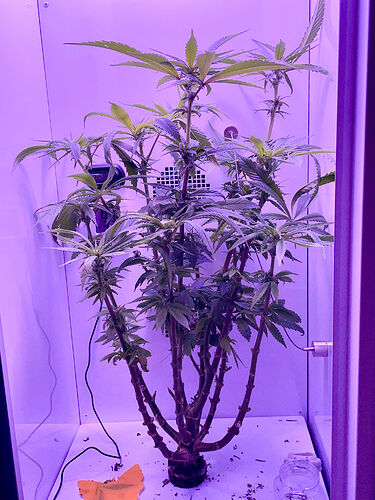 Maybe her Jamaican mother imparted some of this toughness and resilience.
She
is
killing
it
Great work on the defoliation. Now leave her alone for 4-5weeks and she'll get bulked up!
Very conflicted about this: pistils are changing color but this definitely doesn't feel anywhere near ready to me. Any advice?
Touching the buds causes the hairs to turn so keep that in mind
She's got a week or 2 to go I'd say
Good to know but I am definitely not touching them and they all seem to look the same. Thanks for the info.
Nothing to worry about, all part of the maturation process. I'd just say to keep an eye on it, the white hairs should continue to show up
@haze Keep In Mind… All Plants Are Different, And Might Not Look Exactly As Expected…
I've Seen Genetics That End Up With Tonf Of Green In The Nug, But Covers In Tricomes.
Shoot Some Whole Plant Or Whole Branch Pics Too…
She's big. A defoliation is in order again soon! You'll want the light to reach those bottom buds
Defoliated some. My hands are Spider-Man level sticky!
15 posts were merged into an existing topic: (Feedback Here): (Plus):