Are you sure it was over saturated as it looks dry and probably lacking water.
It was over saturated in the beginning which caused some damping off and stunted her a bit. The pod is dry now, but I have lots of good healthy roots in solution.
Looking a little better, but still getting some rust colored spotting on the newer growth. Did some LST to even out some of the growth. Nearing the end of transition already so I extended it for another week since I don't see any signs of flowering yet. I hope she gets a bit taller before flowering anyway.
Roots are also not as healthy looking as I'd like. I am adding 6 mL of hydroguard with every water change and using RO water.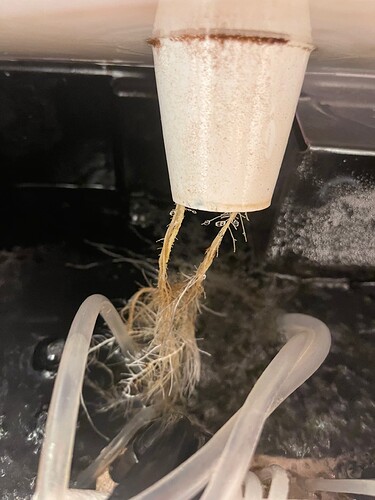 Exciting things coming up! Building out a 3x3 tent fitted with a 4" intake and 6" exhaust on an AC infinity controller. Using a California lightworks solarsystem 550 with a spectrum controller. Planning to do organic probiotic living soil from Build a Soil in earthboxes fed with Malibu compost, kashi and inoculated with EM1. Plants will be placed under a SCROG.
LST is evening out the canopy pretty well. Things are starting to shape up a bit. Still dealing with some spotting on the leaves. Could this be calcium or phosphorus deficiency? Or still the effects of early damping off?
Lets see your stem close up?
Looking good imo from the photos. Keep her in veg till 2nd fan for sure but otherwise she's doing well
I had to square my door up a bit by adjusting the feet. You might consider small self tapping screws in some spots. Top edge and what not. I had to make small tweaks to the door to stop the leaks.
Sorry. Also the flange the rubber contacts. Make sure it's straight. You can get one sided role of foam gasket at hardware store. Like for screen doors. Plant looks great. I'm on day six.
Not a whole lot of room left to stretch. Should I defoliate a little to slow her down a bit? It's an auto so I've been pretty conservative about it so far. Maybe some LST of the taller branches? Week 2 of flower.
Tops in the middle got within 2cm of the light so I had to bend them over. Used LST clips, but kinda super cropped the stems when bending them over.
Decided to make a change from the tent to a crawl space I built out for my living organic system. Still dialing in the environment. Got my vapor pressure deficit (VPD) sitting steady at 1.0. Waiting on my mix and amendments from Buildasoil to transplant into the Earthboxes. Also saving for a apogee PAR meter so I can dial in my daily lighting integral (DLI). Light is a California Lightworks Solarsystem 550 with spectrum controller. It's a very focused light so I also ordered two Fluence Ray 44s for side lighting. Fresh air intake is coming from my bedroom and lights are on at night with two people and two dogs sleeping in the room exhaling CO2. Don't know if that will help, but it conforms to the symbiosis of the system. Intake is filtered through a MERV-13 air filter and air exhausted outdoors through a carbon filter. Going to layer BAS light mix on the bottom of the earthbox to avoid too much compost where the water wicks up from the bottom. Next layer will be Clackamas Coots mix. Then topping with gro-kashi, gnarley barley sprouted seed blend, and BAS craft blend. Once the mycelium mat forms, it will be topped with BAS buildaflower and Malibu compost. Other amendments include aloe Vera for veg, freeze dried coconut for flower, rootwise mycrobe complete, rootwise bio-catalyst, rootwise bio-phos for flower, quillaja extract, BAS big 6 micros, green aminos, and natures brix. Will probably add worms at the next grow in this No-till system. Strain is Cherry Smash from Inhouse Genetics.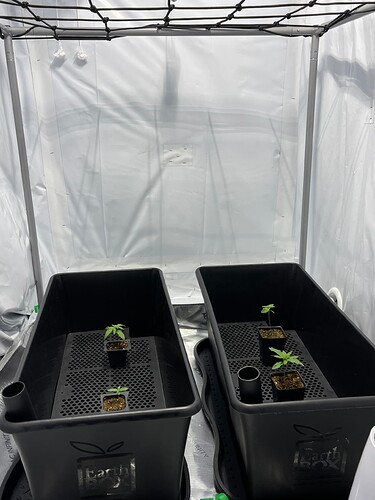 Still waiting on BAS to ship since the LOS Malibu was on backorder and then they shut down to put new racks in the warehouse. Plants were outgrowing the small containers, so I transplanted into 1 gallons using some pro-mix MP I had left over. Amended the soil with a bit of BAS craft blend, soy hydrosylate and some EM-1.
Added some side lighting to even out the PAR output across the canopy. Looking forward to these Cherry Smash girls growing up! Gorilla glue in the Grobo is coming along too, but I keep having to bend some branches to keep her away from the light.