Why is it even that high? Never saw one so high before, seen some up 1/2 inch maybe.
Because the coco pod is still really saturated and the plant was drooping. The grobo support page recommends 1-2". I also keep seeing people saying the underside of the lid should be dry. Mine is not, even in early veg with the lower water level. I'm not sure how it's possible for it to be dry given the physics of evaporation and condensation.
She is a bit high, you can remove your toothpicks and let her down about 1 inch, the roots will still grow towards the water and you can reinsert the toothpicks to hold it in place. She will recover as you are doing this early enough in her life.
Thanks. I lowered her back down a bit. The coco pod has dried out nicely now, but she's still looking like she's struggling. Got a few brown spots and the new growth doesn't look very healthy.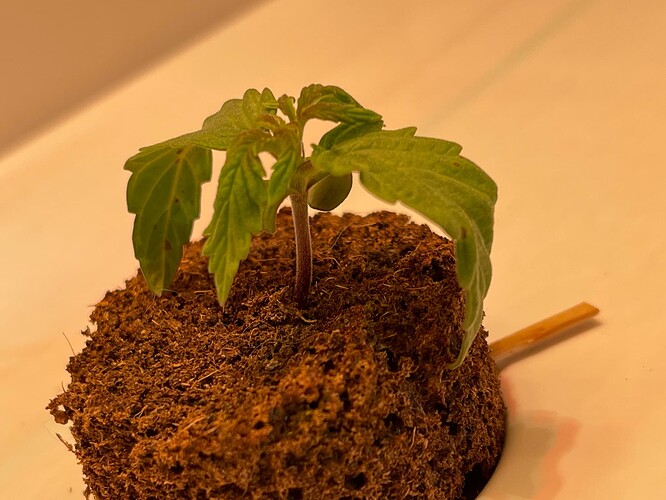 If shes fighting damping off because the pod was to moist she may need a little extra time to recover. Keep an eye on new leaf growth
She's coming around more now. Gonna try the grobo start with peat pods next time. Also installed some upgrades.
Are you sure it was over saturated as it looks dry and probably lacking water.
It was over saturated in the beginning which caused some damping off and stunted her a bit. The pod is dry now, but I have lots of good healthy roots in solution.
Looking a little better, but still getting some rust colored spotting on the newer growth. Did some LST to even out some of the growth. Nearing the end of transition already so I extended it for another week since I don't see any signs of flowering yet. I hope she gets a bit taller before flowering anyway.
Roots are also not as healthy looking as I'd like. I am adding 6 mL of hydroguard with every water change and using RO water.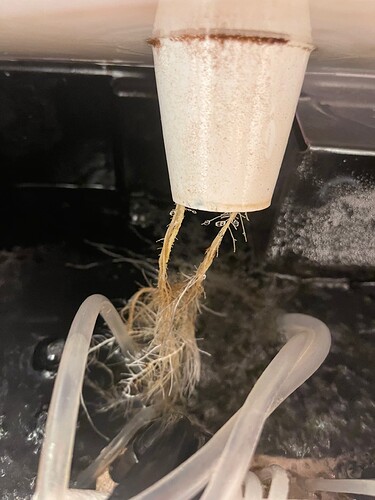 Exciting things coming up! Building out a 3x3 tent fitted with a 4" intake and 6" exhaust on an AC infinity controller. Using a California lightworks solarsystem 550 with a spectrum controller. Planning to do organic probiotic living soil from Build a Soil in earthboxes fed with Malibu compost, kashi and inoculated with EM1. Plants will be placed under a SCROG.
LST is evening out the canopy pretty well. Things are starting to shape up a bit. Still dealing with some spotting on the leaves. Could this be calcium or phosphorus deficiency? Or still the effects of early damping off?
Lets see your stem close up?
Looking good imo from the photos. Keep her in veg till 2nd fan for sure but otherwise she's doing well
I had to square my door up a bit by adjusting the feet. You might consider small self tapping screws in some spots. Top edge and what not. I had to make small tweaks to the door to stop the leaks.
Sorry. Also the flange the rubber contacts. Make sure it's straight. You can get one sided role of foam gasket at hardware store. Like for screen doors. Plant looks great. I'm on day six.
Not a whole lot of room left to stretch. Should I defoliate a little to slow her down a bit? It's an auto so I've been pretty conservative about it so far. Maybe some LST of the taller branches? Week 2 of flower.