She's an offset grower!
Open a ticket with grobo. Wifi issues can be fixed
thx and ya was gonna do that if resetting all network equip doesn't resolve…
Germination (Day 8 / 10)
couple more days and Lon is coming along, I can see that the tap root has broke thru the bottom of the coco pod as well.
I reset all the network equipment and connected to the extender ssid which seemed to be a stronger signal where grobo is located now and that seems to have fixed the disconnects… I suspect its the bedroom doors closing at night that was weakening the signal enough so it couldn't hold a connection. I'll keep and eye on it but good so far.
((

#ItIsAlive

)): (Congratulations): ()

((

#IWillWatchYouGrow

)): ()
--

---
Early Vegetation (Day 5 / 14)
Lon's looking good , roots are developing really nice. Leafs look like they're doing well.
So far the move to the basement seems to be working out well for the temp being cooler downstairs I don't have to have the air set so low on the main floor.
Looks great, I look forward to watching your process.
drain and fill day things seem to be moving along well. gonna trim off the 2 sets of first leafs that formed as well so can start counting nodes for topping.
Grobo doing its thing
Looking good
Late Vegetation (Day 10 / 14)
seemed to be time to top Lon , Last time I think i did it to early…so left for one more node …hope this works out…now to get Lon recover. Am noticing some brown spots on the lower leafs. I did note on Sunday that bottles 3 4 and 5 all went down after last drain and fill so hoping it works itself out I'm on third grow and not sure how soon till I have to replace ph probe but I'm sure its sooner then later. I'm gonna try re calibrating probe after two months before flowering and see if that helps… after last two grows the probe was looking pretty gunky when cleaning and setting up for next grow.
Lon after about 8hrs
Looks very happy, perfect top cut. Are you planning to remove the damaged leaves that you mentioned?
sorry I have been really busy surprisingly and have neglected to keep this up to date
I topped two more times and left to recover… I might have let it stretch abit to far before flipping to flower but after the 3 toppings it seems like it needed enough time to develop even tho the plant overall was continuing to grow taller.
On day before transition a did a heavy large leave trim…but not as aggressively as last two grows… I still plan on doing heavy defoliation on week three of flowering (in grobo terms week 1 after 2 weeks of transition)
i've been trimming any extra side branches growing off the main branches. 3 of the first branches today i trimmed right off since they were half the height of the rest…it leaves nine main branches so should be fine anyways I'm hoping stopping the small side branches from developing will leave more energy for the main ones(last 2 grows those side branches don't develop hardly anything )
sorry forgot to reply to you…yes i ended up doing that gradually
Transition (Day 9 / 14)
ya Lon is stretching like a beast…which being a 60/40 indica dominate strain I wasn't expecting this strain to stretch so much…looks like super cropping is in my future. It might be that this strain in grobo is best to just top once and flip sooner not sure. I trimmed off lowest level of leafs and growth and shimmy-ed the support up higher… couple good pics of topping you can see how long the nodes are between… more more sativa is vs the blueberry i did which was very tight node growth.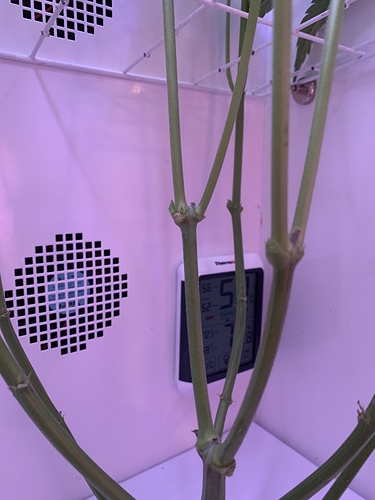 She looks great, incredibly even canopy. Perhaps this pheno just leans toward the sativa side of her genetics. Hope she stops for you soon!
thx everyone
Transition (Day 14 / 14)
Drained and filled this am and Lon is still stretching!.. Would anyone push the cocopod down or just resign myself to supercroppin everything first?
7 days till last major defoliation, I've only been trimming off side branches that start to grow too tall.
Pistils starting to develop now.