Isn't the Pax 3 cool?!! I've had it since May and i have to say it only got better the more it was used. Thanks for sharing the final outcome looks great. Happy growing
And the race is on to see which cola will be the tallest … it's like they are racing each other to the light lol I got my money on the one in the back closest to the fan …
I had two colas racing too, check out this pick 9 days ago two almost at the same height at the back.
And now yesterday as she continues to stretch grow but the one on the right back is taking the lead.
That's awesome really great comparison shot for sure !!! I'm wondering what the outcome is going to be !! Your plant looks nice #ogkushgang !!
It seem like my plant is following the great @Azuri grow as she is showing no signs of wanting to flip haha might show 4 weeks later like yours !!!
Yup, starting to beef up now but still a long ways to go yet. Not sure why mine took so long to start flowering but I'll report back yeild and some pics when I get there.
Off topic can anybody hook me up with some edibles lol
Hey @Bongsmoker89
Meet me here and I can hook you up!
Hahaha this is amazing!! I just burst out laughing at my desk and I think the team is a tad confused
Looking good my pistils are now popping up … my girl is a little slow
@Cornholio hey Gregg that plant is minimal trimming yeah? How's it filling the grobo. You have a shot of the whole plant you can share I'm curious
No trimming other than removal of some damaged leaves. Here are 2 more photos—one from above and another from the front:

Do you plan on keeping the sweet leaves ? If so please weigh!
Feds are on to you @Bongsmoker89
Looks like a Cannabis sniffing dog heading to your truck, lol.
Hadn't really thought about that. What would you do with the sweet leaves?
Day 56 almost a week into stage 5 and I feel she getting to close to the sun. Thinking I'm going to have to pop the Coco pod through. @Azuri I think I remember you saying you had to do it. My questions are does this mean that the main stem will be sitting in the reservoir, and will the light that is able to get through the hole in the basedeck (were the Coco pod is supposed to be) and into the reservoir hurt the roots or have a negative impact on her? @Stephen I'd love to hear your thoughts as well, not really wanting to super crop.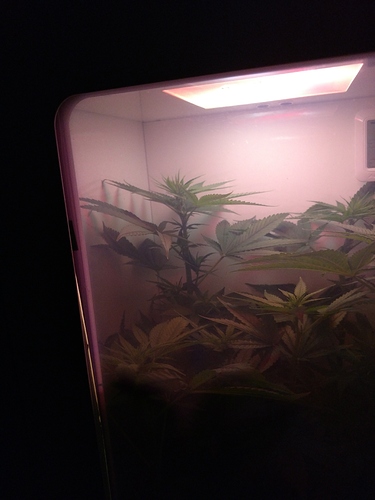 Day 60 of some Trainwreck.
@greenman