shot on an iphone
thanks Vicc!
Day 22: any FEEDBACK
on the "topping"
is appreciated AG community
five (5) nodes came quicker than expected…cut at the 5th node on the day of the scheduled water change. Hopefully it was performed correctly for this 1st timer
FYI. grobo response received immediately from submitted ticket to confirm pH probe is with a recommendation to remove the bottom "twisting" leaves . grobo support is really great, responsive and caring!!!
I believe you may have FIMed her a bit, picture is not close enough to tell. Not to worry however I did the same. It will turn out well either way!
THANKS!
always appreciated your feedback …I've been watching
your grow closely too as your posts have been helpful
Nice Work as look forward to seeing how your GDP turns out as it has been looking fantastic!
Appreciate you saying so, a very rewarding experience.
Day 27 (3/14 late vegetation)
Hi AG community,
looking for some advice…
is it
to remove
these fan leaves on my next upcoming water
change in a couple of days (day 29)?
the three-finger fan leaves
were removed
on day 25 during a mid-week fill up of almost a gallon
…plan to top off water fills twice a week
from now on due to the increased water use
…the next set of seven finger fan leaves
were removed
on day 26
likely to extend an additional week due to topping and trimming but waiting to see how she looks closer to the end of this cycle.
any feedback is appreciated…
((

#StagesInAGrow

)):
((

#SomeReads

)): ()

((

#YourGrowYourCall

)): (SheIsBeautifulByTheWay):

(Do what you like with this grow and have it as your base grow for the next grows): (Every grow can be a little different, play around with them and find your favorite way of growing):
---
(ForToppingLollippoppingPlusVideos): (ClickHere):

--

((

#Topping

)): (

@TheFifthNode

): (NotForAutos):

- - -

((

#Lollipopping

)):

- - -

((

#YouTubeVideo

)):

--
---
(ForToppingLollippoppingPlusVideos): () (ForNonAutosOnly):

(

#Nodes

): ((

#Topping

)): (

@TheFifthNode

):

(

#YouTubeVideo

):
---
(GrowJournals): (ClickHere):

--

Grow Journal - 'Acapulco Gold (Sativa)' (Acapulco Gold (Sativa)):
Grow Journal - 'Blueberry (Indica)' (Blueberry (Indica)):
…

- - -

https://my.grobo.io/grow-journal/947644463 (Kush N Cookies (Hybrid)):
…

Grow Journal - 'Cheese (Hybrid)' (Cheese Auto (Hybrid)):
Grow Journal - 'Shiskaberry (Indica)' (Shiskaberry (Indica)):
Grow Journal - 'Black Widow (Hybrid)' (Black Widow (Hybrid)):
…

Grow Journal - 'Generic (Indica)' (Generic (Indica)):
…

https://www.allgrowers.com/t/april-2020-grow-journal-contest-champions-feedback-request/5413/6?u=

--
---
--

---
thank you SilverGrobo for the information
. FYI. I snipped
them away last night after getting confidence with AG readings and watching Stephen's video of removing the top set of fan leave to allow more light in below
Your doing a great job man, keep it up! AG has got you covered
thanks Letsgrowmore!..i've been watching
your Blue Dream
grow up as it looks great!
EXTEND an additional week? Any advice is appreciated.
trimming
summary (on water
change days)
day 22 - topped @ 5th node (1st cut); removed 1st set of single leaves; grew fast afterwards

day 29 - removed 4 largest fan leaves and 4 fan lowest fan leaves; grew fast and turned bushy afterwards

day 36 - removed large fan leaves, lower fan leaves, "cringled" fan leaves, and fan leaves blocking future buds…hopefully not too much at one time
wanted to remove more fan leaves but had to put the trimmer down before i get carried away…decided to attempt to guide the 10 main branches into different scrog openings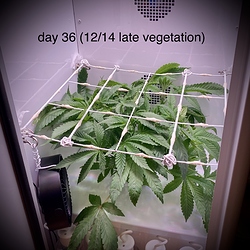 DAY 69 (3/41 flower)…any recommendations are appreciated
extended late vegetation 2X for a total of 28 days
trim LARGE fan leaves, BLOCKING fan leaves, and LONGED STEMMED fan leaves, once a week on every morning of scheduled water change

noticed that the fan leaves grow back FAST
Scheduled to do the last major trim up on the next water change in order to free up more light to buds sites

ANY FEEDBACK as I'm anxious to see some evidence of flowering ?
- - -
(SuchABeautifulGrow): (SheWillGetThere): (AllYouNeedIsPatience):
- - -
(All I Have For You Is To Ask [SupportWithATicket] The Cause For The Hickup): []:

(LoveTheWayYouAreKeepingAnEye [] OnDetails):

(

#ILoveThisFlower

):
--
---
thank you for the nice words
my patience has been improving
This looks great! Maybe do a bit more lollipopping on the stems to help focus that growth up top for best buds!
thank you and thank you for the TIP
Day 85 (19/41 flowering)
happy to SEE more evidence of flowering
HOWEVER Support Ticket was sent in tonight
12th week of drain/fills but bottle

#5

did not disperse today
tubing was checked and not obstructed with roots
ANY HELP based on your experiences would be great
My bottle 5 wouldn't dispense because my EC was high. Check your EC probe for build up. If it's there, clean it off and do a drain/fill.
Thanks FireGuy!!
the Grobo Support Team (Danielle, Stephen, and Stacey) have all been great helping out with the Support Ticket that was emailed in
no bacteria build up but the EC probe
needed to be calibrated
adding 20ml manual doses of bottle #5
during drain/fills directly to tank while waiting for EC 2.77 solution to arrive in the mail
day 97 (31/41 flower)
EC probe recalibrated and bottle #5 back to dispensing…grobo customer service is outstanding and accommodating

plan to extend FLOWER an additional week …thoughts?