Congrats!!
"Little leaves" - Grobo guidance is entertaining and fun.
What is the science / nature behind the tail knowing to plunge down instead of up?
Week 2 pic:

((#ItIsAlive)):

((#IWillWatchYouGrow)):
--

---
Nothing wrong with this at all, If the roots were going up towards the leaves would be an issue or if they were bad roots, but not the case here:
((#PerfectSoFar)):
--
---
I don't think its anything to worry about it seems to be pretty normal.
My week one…
My week two…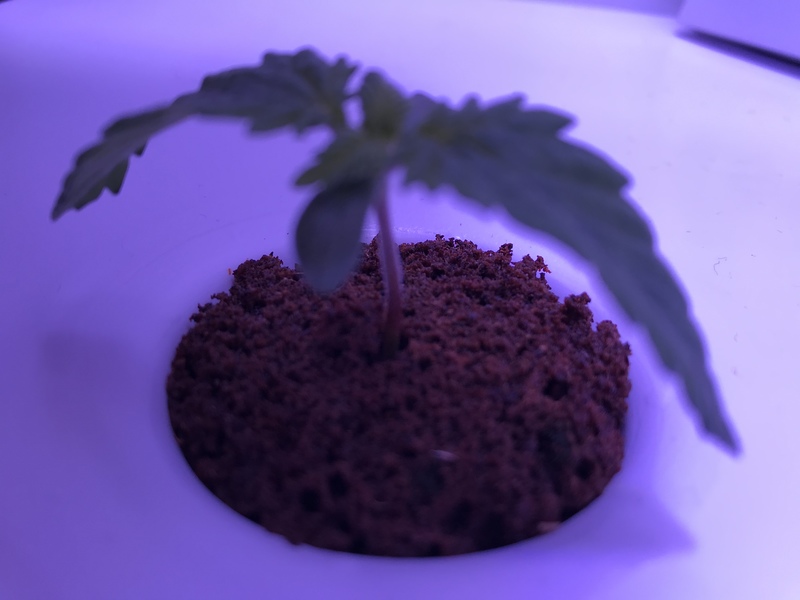 My new grow week one…
Some reads…
Day 16. Anyone see any issues with the roots shooting between the coco pod and the plastic holder? My other grow went straight down the middle of the pod.

I think she'll be alright. Once it beefs up it might just push the coco pod in a bit? I don't think it'll be a big issue though
Nothing to worry about there. Those roots are very healthy, and soon enough you'll have roots going everywhere
Should I b concerned with the humidity level around 22?
I have a large evaporative humidifier in the center of a room that is going most of the time but the grobo is 25 feet away

Can I put a cup of RO inside the machine?
cold dry winter air here too. I had to buy a humidifier and I have it pointing its output towards back of grobo to get RH up to 40-50% range…I think 21% is lower then you'll need.
Drake is correct
i got this one at costco (canada) for like 80 bucks…really like that it has 2 large tanks auto off when they run out of water and can set RH or continous and how much mist comes out…does cool and heated mist

I'm at Day 52 and have not even passed the first fan as far as height is concerned.
I have topped and thinned out already once.
Looks like you could do away with a bunch at the bottom. Keep cleaning up the bottom so she focuses on vertical growth instead of the plant as a whole. Think about then energy distribution, I trimmed everything except the tops up until she hit the bottom of the fan. Realistically you're going to trim it off later anyway, unless for some reason you didn't want to
I extend the grow and now I'm in the 10 day flush just before harvest.
I think it's going to be a low yield because everything looks like popcorn buds but they're very thick and dense. This was a "free" seed and it was the only one I had available after my first grow. I have since purchased two new strains that will start one of themAfter this grow is over.
Looks great! I think you'll surprise yourself on how much you've yield.