Very nice Ben!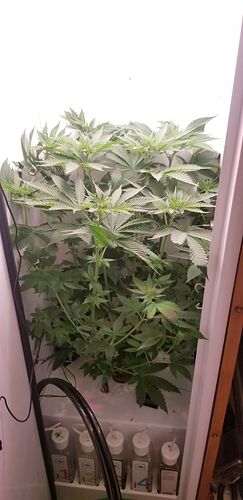 Going in the right direction… humidity and temperature in the zone… a little extra CO2 on the side (personnal wine making)
Let's the fun part begin.
Nice. Any plans to lollipop? Or are you gonna leave the lower growth to develop?
I will probably lollipop this weekend, it was a quick haircut to make sure light would reach every buds sites
Nice. She's a beast. Excited to watch from here, this is my first time on your thread!
I love it when growers get the RH/Temp just right so the VPD is on point and the plants pray upward. Makes the ladies looks so happy inside the Grobo
You've done just that!
New addition to the familly. 1 plant for my next grobo grow, 1 for the green house…
With a Lime Light and a Bruce Banner for the grow house (started in pots on the side)
Added some grow leds at the bottom last week… seems to improve buds at the bottom.
Will probably extend flower at least a week
A month later… i can confirm this plant loves light.
Have you ever seen 2 grams buds less than 5 inches from the ground??
118 grams… i think my lights made a nice difference.
What kind of lights are these? Do you have link to buy also when exactly did you add them to the grow would you recommend adding them prior to when you actually did based on experience? I currently have a gelato in works looking for any pointers im on day 8 of late veg
I'd like to know also what type of LED Lighting on the bottom? Thanks man that looks good.
These are the light i used.
I am using them since seedling, the very first day
From what I have seen so far, yes they do increase yield, especially at the bottom of the plant.
Biggest problem
They produce too much heat, i have to leave my Grobo's door open all the time
With the door closed, i was reaching temperature over 33 degrees celcius (92 F)