Here come my 2nd grow…
after a first, laughing buddha 75g in total… let's hope i reach 100g this time
I know, the way i started my seed is on the red neck side…
I have been told Grobo Start would do a lot better job for seeding and early stages…
So i ordered, and received, my Grobo Start already…
3rd grow will start with a 5 week old plant

(yet my red neck way still saved me 10 days on this grow because i started it at the same time as the flush from the first grow)
after her first haircut
Very nice Ben!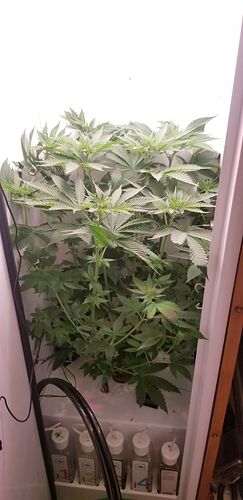 Going in the right direction… humidity and temperature in the zone… a little extra CO2 on the side (personnal wine making)
Let's the fun part begin.
Nice. Any plans to lollipop? Or are you gonna leave the lower growth to develop?
I will probably lollipop this weekend, it was a quick haircut to make sure light would reach every buds sites
Nice. She's a beast. Excited to watch from here, this is my first time on your thread!
I love it when growers get the RH/Temp just right so the VPD is on point and the plants pray upward. Makes the ladies looks so happy inside the Grobo
You've done just that!
New addition to the familly. 1 plant for my next grobo grow, 1 for the green house…
With a Lime Light and a Bruce Banner for the grow house (started in pots on the side)
Added some grow leds at the bottom last week… seems to improve buds at the bottom.
Will probably extend flower at least a week
A month later… i can confirm this plant loves light.
Have you ever seen 2 grams buds less than 5 inches from the ground??
118 grams… i think my lights made a nice difference.