Thank you guys
It kept my grow alive for sure!
I did recently switched the pump though because that one isn't gonna last real long but you may get a couple months out of it.
Whwn it starts to acting like it just hasn't got a lot of power its a sign of it going out!
I switched to the active aqua two air and it really took off!
I am still using all the rsst of the equipment in that setup!.
Thanks! I'll check out the active aqua two and will keep an eye out on my spare pumps. I'll have to make sure I don't dial up the pump too much as @SilverGrobo suggested
I really like the Tetra brand as they are made for aquariums and to run CONSTANTLY. I'm sure the active aqua pumps are the same.
Flower Day 41/46
Took some trichrome shots! (sorry for the blurry photos). I'm not seeing much amber. I think it'll be another week or so before I move the plant to flush
I think your right on the money. Shes looking killer @Aang
Thanks Todd!
I have two blueberry muffin plants in the Start. The middle plant is a day younger than the plant on the right. I think I'm going to top them. The healthy looking plant will go inside the Grobo, most likely the middle one!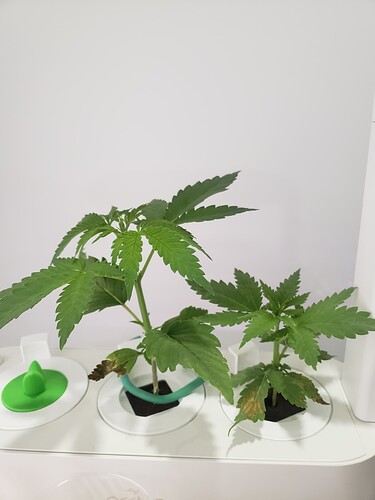 Very nice and White Widow is our first grow, day 3 right now. Hope it looks as good as yours.
thank you. Good luck on your grow! I'm excited to try this old school legendary strain again
Hey guys, due to my schedule I flipped her to Flush early and I'm planning to put her in 48 hours of darkness soon so I can harvest her this weekend. I'm a little paranoid about putting her in 48 hours of darkness since it's my first time doing so. Can I open the Grobo machine to check up on her sometimes during this time?
I'm seeing a lot less amber compared to my last grow but I do like the upper highs while being active. I think she stacked fairly nice!
Look
nice
Nice, but curious why you did not just wait 1 more week to get more amber color and do all this for next weekend instead?
Good question! I think 1 more week will be ideal but I don't know if I'll have time to harvest her next weekend. I might extend flush until next week if I can!
I harvested my White Widow! I got 34 grams of good looking bud and the rest are larf. It smells nice and I'm sure the curing process will make it smell even nicer. The buds are very frosty and filled with trichomes!
Thanks everyone for your help
Thanks man
Good job beginning to end! Looks really nice. Hows it feel compared to the blueberry?
Thanks @Todd.grobo! Both grows took a lot longer than expected to grow.
The White Widow buds are nicer looking because I do much better job at trimming the bud now compared to my first Blueberry grow haha. The Blueberry has a ton of amber trichomes while the White Widow has more cloudy trichomes. Hoping I can pull in 2oz next time in the Grobo but the bud quality is amazing.
Here's a side by side comparison of all my homegrown. Starting from the left to right: White Widow, Blueberry Muffin, & Wedding Cake
Thanks for the comparison thats pretty sweet
Nice as this is what we are trying to grow now. I hope it comes out as well as yours.