Lol
just
Dont hate the conservative guess, you asked me! Lol. I am hoping you gef more too!
Not hating whatsoever
@Mpower11 @Todd.grobo as i'm doing this harvest a little different than my others…how do you suggest i proceed? my thought was to just cut all branches off the main stalk, set them on a tray and go from there. then i thought just cut the main stalk down and hang each plant and cut branch by branch for trimming. Any thoughts on either??? Usually I just cut a few branches, we trim, then cut some more.
Thanks man, I will cut full stalk and hang, then cut branch by branch for trim.
I usually cut them off straight across so its shaped like a big U. Start at thr top cola snd work down. I find thats the best way for me to space. I think mark has a much bigger tent so hes got space to spare. I try not to trim anything but fan leaves pre dry and spend more time after trimming it up for asthetic reasons.
Amazing grow @FireGuy! She's a beauty, congrats!
Well I have done
all so far dry trim wet trim this one
today my cookies
I took off all the big fan leaves
an stuck it in my box
to dry I'll remove all the sweet leaves
once it's dry
After doing some reading last night, decided not to cut everything down before my buddy gets here. One of the things i read was that dark time harvesting is really only for people that don't do the period of darkness. Once the plant is in 24+ hrs of darkness the photosynthesis is stopped so chlorophyll is not being produced. As i've done 48+ hrs, chlorophyll should be minimal. I also raised my water temps last night to about 73F and the higher water temps help with flush. Ideally water temp would be 73F for maximum nutrient delivery to the plant as well as an acceptable ppm of oxygen. This scares me as i've seen plenty of cases of root rot and it's not something i want to deal with, and I don't want to have to dose hydroguard…whole reason i bought the chiller lol.
I will say @FireGuy
ANY cannabis bought from a medical or recreational grower here that isn't named OGEN, makes my wife cough. For whatever reason, the new drying method we use has made her squeal. We tested the 1 month cured Gorilla Glue of the tent last night. The lemon smell is becoming more predominant and the smoke was so smooth she didn't have one cough at all before or after or during smoking it.
Because of her experience with cannabis is why we have tried different drying methods etc. Because she has been so happy with how smooth it is, I don't think we'll do it any other way now.
Her comment is always "what are the growers doing to the cannabis before I get it?" because of her coughing.
OGEN grows small batch high quality in DWC and has a similar drying technique.
Well, only got one plant done today, took us 4.5 hrs. Keep in mind, I was a little bit high, we took breaks, watched some movies, and had to cook some foods. All in all, good day. Didn't take wet weights but will take dry. Wedding Gelato comin down tomorrow.

Lol sounds like a good day to me.
Definitely a GREAT day! Tomorrow will be another one, after a couple of hours of actual work in the morning.
Thanks you for sharing this .I just pre ordered a cannatrol as well. curing is going to be so easy now .Awesome harvest bro.
Second plant came down. Didn't take as long to trim with less branches, but damn she's a dense and sticky girl. Much more than the white widow done yesterday.

Let the drying begin. My humidifier took a shit but i'm lucky we've been getting a lot of rain the last few days so humidity is through the roof. Tent is sitting at 74F and 62%…I consider that pretty darn perfect. I'll be drying in the tent until the Cannatrol gets here, hopefully before the end of this week
! Should have a dry weight in about 10 days I hope, some of those colas may take a bit longer.
Final trichomes (just grabbed a stem off a hanger and took a pic
White Widow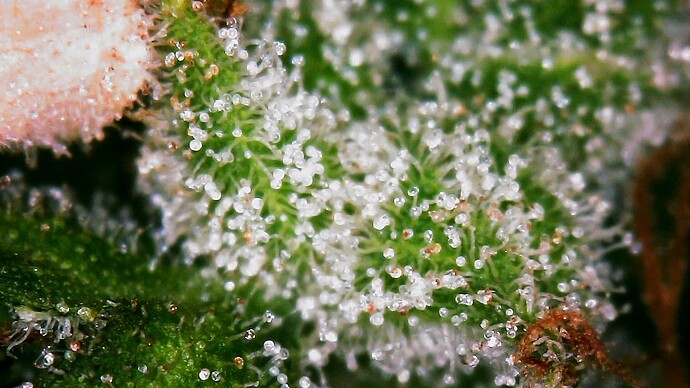 Wedding Gelato

Nice work!