I would wait 24 hours do your alk first then cal.
Ph is no different than growing always last
Like Todd is saying can be done easy if your willing and able to daily at the right times. Mark says no thanks. Lol
I can do it would mess with my schedule a bit but I barely sleep
already so what the Hec but I would like to hear
ur suggestion as well weigh out my options
Here goes another shot of the white widow I'm on day 3 of flush for the other ones how much closer is she looking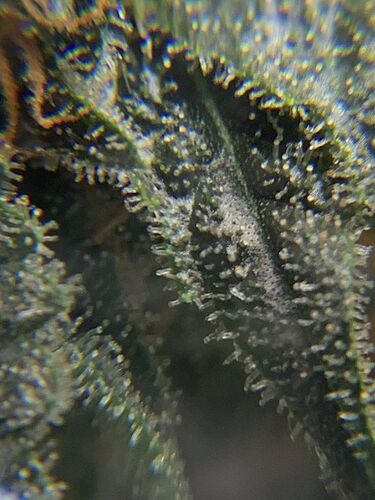 Thanks
gd brotha hopefully she'll be ready to flush when these are mostly done
so the 2 days in the dark is the last 2 days correct
Yup. Then chop and hang. Dry at 60%
Does the temp matter or u have an ideal temp​:+1:t2:
I aim for 25c however more humidity means temperature or atmosphere holds more heat so your temperature goes up. Im at 27c atm and 62% RH
Save the photo for reference

Looking amazing chop!
Thanks
bro
Got the reading
for u again they were all different first was the sour royal gorilla
an then the Gg4 an another shot of the white widow @ToddYYC what use think
I see some cloudy and a little amber. There almost ready. Did you need em to finish soon still
I mean if it does the better then I can dry them all together an just leave the haze under the light