A I plug them into a SmartThings outlet which is connected to the SmartThings hub
So I'm checking out the smartthings outlet n dont see one with a usb outlet for the fans. Omacoder any pics or anything of the one you got?
Smart Outlet with USB Control via App
The way the cords are set up with these 2 fans is kinda a mess omacoder would you happen to have a pic of your set up using your fans
Love ideas n also these cool your grobo down the air flow on both fans even on high is weak no? First time grower so not sure bout alot of things but definitely trying to learn.
Yes these aren't industrial fans. Out of all of them that I tried this provided the most air flow.
But thanks to Amazon you can try others if you'd like and just return the losers
They work for me to move air flow. If your room is too hot in general these fans will not cool the room down.
This is all advanced stuff here. Way above a beginner stage maybe your first grow you just let the machine so it's work? You might be satisfied!
Thx for the response like I said new at this n not very knowledgeable bout it but I definitely thank you for your advice n the pics. you said you tried 3 different fans n these were the winners. Yes I did set up after i sent you message last night n see why you dont need a high industrial fan these r perfect thx man
For reference, here were the 3 losing ones I tried:

Thx again man. no I like these n I believe you on these were the winners hope you didn't take it wrong just also wanted to see your set up. Thx much
Nope! Just thought it would be good to document which ones I reviewed for future reader's reference
How big is it inside the Grobo or how much room it takes up?
It's a little bigger than I though, I'll be removing the clip bracket and then it'll be a perfect size.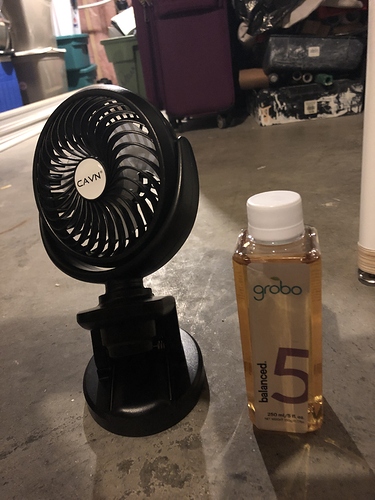 In the second picture you see that huge bracket piece on the right? I'm going to remove that and probably glue some magnetic strip on the backside of the other half of the clip, stick it to the wall in the grobo and pass a small USB power cord through the access door at the back.
Let me know how you get usb cord through the back while plant/reservoir is in place. I gave it half a shot but then decided it wasn't worth the risk (plant was already quite large).
Yeah bro, I hear ya. Did a test run with a fish tape, gently fished it up from the back. It's tight but it fits!
I just picked these up as well to dry out my coco pod. I have to admit, these are awesome little units (you can daisy chain 24 of them if you really want to). I have 2 in the bottom right now. Currently running the USB cord through the front door but will go through the back after my grow is done.
I will honestly buy at least 8 more of these (for work and home purposes). For $15 CAD ea it's a good deal.
Thanks for the suggestion
AC Infinity MULTIFAN S1, Quiet 80mm USB Fan for Receiver DVR Playstation Xbox Computer Cabinet Cooling https://www.amazon.ca/dp/B00G059G86/ref=cm_sw_r_cp_api_i_xzc9Eb4R2F8TR
So you guys use them to dry out the pods too🤔 I was thinking it's just for air flow.
After a month or so I can say that in the beginning it did start to dry out the coco pod. Unfortunately my grow has been irregular, I use them mostly for airflow now. Still a great purchase in my opinion.