This post was flagged by the community and is temporarily hidden.
Hey
nice to meet you. I'm a new grower. I got the Grobo and then got a tent. Could you share a little more about your current plant? I have one that's at 28 days
Hey @NYS,
Sorry to hear you are disappointed. You can always reach out to our team at support@grobo.io and we can take a peek at your plant and unit data to see if we can assist.
Cheers,
Stephen
Hi
It's an indica, super skunk from Sensi Seeds. It's total time is supposed to 101 days yet it's been 4 weeks and it's not even 4 inches tall. Can't help but feel pessimistic.
Try extending vegg. The recipes are not perfect by any means. You have to finess each grow it seems.
My plant was on a similar path but I've seen dramatic improvement. Definitely contact support.
Here's mine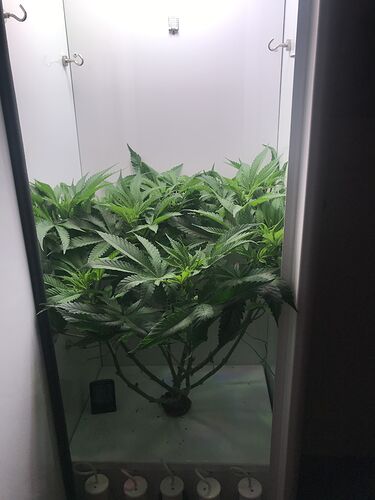 …
(She Is Above The Second Fan, -And- Is Perfect Timing To Go To Transition If You Are Ready, Then She Is): (Awesome Job Lollipopping ): {}: (We Try To Stop Below The Second Fan): (Hope She Is Not A Tall One For You):
--
---
~ ~ ~ ~ ~ ~ ~ ~ ~ ~ ~ ~ ~ ~ ~ ~ ~ ~ ~ ~ ~ ~ ~ ~ ~ ~ ~ ~ ~ ~ ~ ~ ~ ~ ~ ~ ~ ~ ~ ~ ~ ~ ~ ~ ~ ~ ~ ~ ~ ~ ~ ~ ~