Thanks @OrionsCeiling - got to put your birthday
present together soon!
🪴
Cant wait🥺 I'll do the same 4 u! Bless up growmie!
The biggest redemption story.
@Bplatinum9
@miami5th - how's your experiment
going?
Hey @Fluffhead ! Quite a remarkable recovery with the roomba plant!
With the Start, the two remaining plants are doing pretty good. I started to notice some yellowing (N deficiency probably) so I gave a small dose of Revive.

1 out of 2 plants here I will transplant into a Grobo but the plant closest to the light pole will be grown out in the Start. I think I may need to do some extreme training/bending to get her under the light's height. It might look something like this:

@miami5th sounds like a cool idea
Thanks for the fan idea too. Gave her a little breeze
That sci fi looking fan was the only free one
Yeah I started to notice the beginning signs of damping off on the plant closest to the light pole. I think the floor is uneven or something because that pod is soaked while the pod on the other end is dry
I'd never thought of that… gets out level
It was off an 1/8th an inch.
Last night, for the first time…the cat 🐈‍⬛ got into the Start. Knocked a dome off and clawed the peat pod. In cat like fashion, he left the two sprouts.
It's in the tent for now.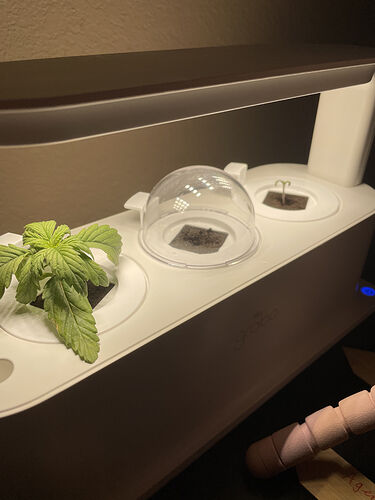 Mischievous little creatures indeed, I suppose cats do not mix with gardens as well as Trailer Park Boys might have one suspect…
When she was a seedling, she got stuck under the Roomba. We were able to save her, so that's her name. Technically a Coco Melon seed from Canuk.
@Vicc you famous
Only missing the dog
congrats
HAHAHAH Awesome Goku made it!!!
Thanks