Many thanks
Major changes today.
First, I begged spouse to let me chop down his plant in the black magic machine. They are drying. Not great quality. Hung to dry. Took that fat a$$ out bucket out of the tent and cleaned it completely.
Second, decided not to put that machine back in the tent. The cloth pots are doing extremely well (especially @OrionsCeiling choice).
Then, decided to leave the BM outside on back porch.
While I'm cleaning - may as well give the Grobo start some freshening up. What am I going to do with this three? Grobo is busy at the moment. Roomba Kush made it to a small pot and earned a space in the tent. But what about the MASSIVE o. Afghan?! And the hash passion with their beautiful roots?
They fit in the BM machine on the porch. And the roots of the big girl touched the bottom of the bucket! Hash passion's roots were easy to remove and put in the cup meant for BM.
And then the start was empty…
So I bought some seeds from grower's choice for 20% off for Valentine's Day. And planted three new seeds in the Start.
All autos.
Banana Kush

Northern Lights

Gelato
Oh man I'm psyched for you!
Thanks @OrionsCeiling - got to put your birthday
present together soon!
🪴
Cant wait🥺 I'll do the same 4 u! Bless up growmie!
The biggest redemption story.
@Bplatinum9
@miami5th - how's your experiment
going?
Hey @Fluffhead ! Quite a remarkable recovery with the roomba plant!
With the Start, the two remaining plants are doing pretty good. I started to notice some yellowing (N deficiency probably) so I gave a small dose of Revive.

1 out of 2 plants here I will transplant into a Grobo but the plant closest to the light pole will be grown out in the Start. I think I may need to do some extreme training/bending to get her under the light's height. It might look something like this:

@miami5th sounds like a cool idea
Thanks for the fan idea too. Gave her a little breeze
That sci fi looking fan was the only free one
Yeah I started to notice the beginning signs of damping off on the plant closest to the light pole. I think the floor is uneven or something because that pod is soaked while the pod on the other end is dry
I'd never thought of that… gets out level
It was off an 1/8th an inch.
Last night, for the first time…the cat 🐈‍⬛ got into the Start. Knocked a dome off and clawed the peat pod. In cat like fashion, he left the two sprouts.
It's in the tent for now.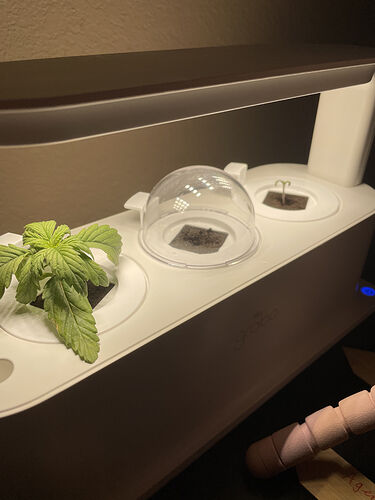 Mischievous little creatures indeed, I suppose cats do not mix with gardens as well as Trailer Park Boys might have one suspect…