Truly beautiful…wish all mine looked like that at 2/14 veg…good job !
Day 25 2/14 late veg. How's she looking? look like it's on time with starting late veg? 42% 76 degrees fahrenheit.
Maybe you could raise your humidity a bit.
65-80% during seedling
55-70% during vegetative
40-50% during flower
that works very weel for me
You can add a humidifier in the same room as your grobo, just don't point it to the back of your grobo
the 65-80% during seedling really help get a bigger plant faster
Thank you @Ben! I've been working on bringing humidity up it's just so dry here. Using a humidifier and got room humidity to about 50%-55%. Been doing daily air baths for about 10 mins. Shifting new humidity and air into Grobo. Usually get the grobo close to 50% and close it up again. Next day same time it's usually around 38-40%. And repeat process. Trying to get room to around 60% and see if I can get grobo at least idle 50%. Thank you for the advice and the reference table.
Big drink of nutes but does this look like too much too quick. Plants dense with leaves wondering if I should extend late vegetation or not…
You should probably decide to extend or not on the last day of this cycle.
From what i have seen, there is a big difference between day 9 and day 14. On that morning, you will have a better idea if you should extend.
I've just look my grow journal for both my grows and your plant look very similar to both mine at that stage. I extended my first grow, rigth at your stage, not my best move. This plant wants to grow, this box does it very well but the space is limited, Most growth happen during transition and the first 2 week of flower.
At that point you really hope it gonna stop growing
but it look's like it could be a good time for topping your plant
It's one little cut on your plant that doubles the main branch, where you will produce your biggest and most beautiful buds
Look for it on YouTube
I normally use my scissor on my plant on the same day i change water. Fresh nutriments makes the plant a bit less stress about her haircut
It looks liike this one gonna be a nice one
This one is a beauty.
Both my grows i moved to transition stage later and end up with a plant touching the light. (and very nice results for the first one, second one still in progress)
From what i have seen so far, transition should end when the plant reach an inch or 2 after the 2nd fan. It will still grow for the first 2-3 weeks of flower (I have end my transition later and end up having some height challenges) I will definitely try this with my next grow.
Day 8/14 Transition
52% 77 degrees fahrenheit
Can I start defoliating or wait till transition is over?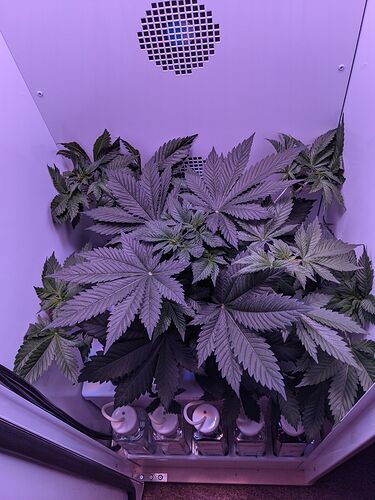 using hooks to direct plant to stay low
Day 13/14 transition
48% 78 degrees fahrenheit
Hooks are really helping keep plant low while still maintaining length growth
Day 1/14 Transition
Stretched a bit! 54% 78 degrees fahrenheit
Wish someone told me before I would need two sets of bottles per grow… Put in support ticket about nutes disappearing and they kinda blew it off that it's normal… Feel like the bottles could be bigger if that's normal…
Day 58 7/42 Flowering
53% 78 degrees fahrenheit
Getting a nice even canopy and some buds are popping in
All that lower growth is stealing energy from your buds.
Where should I prune? All the lower fan leaves?
If it were me, everything below the red line. You can research lollipopping for reference as to what I'm talking about.

Is it not too late in the grow for lollipop cut?
When's best to prune beginning or end of a light schedule?
You can still trim in flower, day 21 is the max so you're right there.